The University of Florida Research Foundation has named Florida Museum of Natural History researcher Akito Kawahara a UFRF Professor for 2019-2022.
Kawahara is an associate professor and curator at the McGuire Center for Lepidoptera and Biodiversity and directs a research program that focuses on the evolution, diversity and conservation of moths and butterflies. His collaborations have produced the most complete evolutionary tree of butterflies to date, tracked the escalating arms race between moths and bats and highlighted how human-driven changes to the environment are impacting insects.
Kawahara's fieldwork takes him to remote islands and the jungles of the Amazon and Borneo to study moths. As a curator at the McGuire Center, he is in charge of maintaining one of the largest collections of butterflies and moths in the world. He is also an advocate for public understanding and appreciation of insects and was a 2019 TEDxUF speaker.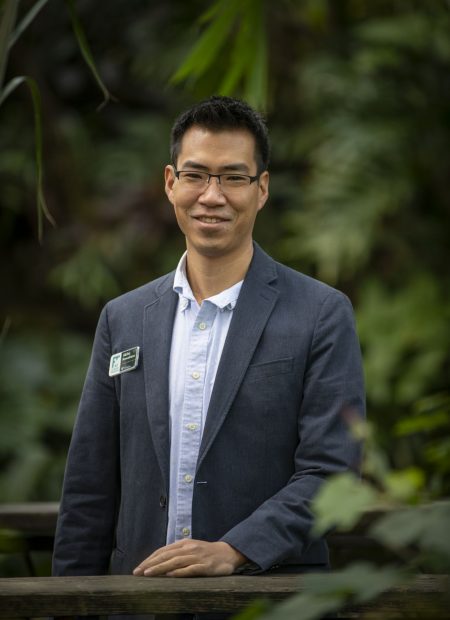 "Akito Kawahara has turned a lifelong enthusiasm for moths and butterflies into some of the most ambitious and astounding studies of these insects in our time," said Jonathan Bloch, chair of the Florida Museum's department of natural history and curator of vertebrate paleontology. "His research has pushed the field forward and inspired the public. A consummate mentor, Akito is dedicated to training the next generation of scientists and is the epitome of a teacher-scholar​. This honor is well deserved."
Kawahara has published more than 120 papers and has been awarded grants totaling more than $7 million. He won the UF Excellence Award for Assistant Professors in 2013 and was awarded a UF Term Professorship in 2017. His other awards include the International Congress of Entomology's Young Investigator Award, the Entomological Society of America's John Henry Comstock Award and the Lepidopterists' Society of America's Alexander B. Klots Award.
He joins 31 other UFRF awardees from across the university. UFRF Professors are selected based on their research excellence and potential to further distinguish themselves in their fields. The three-year award includes a $5,000 annual salary supplement and a one-time $3,000 grant.
"The UFRF Professorships recognize our most innovative and productive faculty, the best examples of researchers and scholars who have helped UF claim its place as a top 10 public university," said David Norton, UF's vice president for research. "Key to this recognition is that it is based not just on what they have done in the past, but what they are expected to achieve in the future. These are faculty who we anticipate will continue to generate cutting-edge research well into the future."
---
Sources: Jonathan Bloch, jbloch@flmnh.ufl.edu, 352-273-1938
Akito Kawahara, kawahara@flmnh.ufl.edu, 352-273-2018
Learn more about the Kawahara Lab at the Florida Museum.
Learn more about the McGuire Center for Lepidoptera and Biodiversity at the Florida Museum.