The vertebrate paleontology division at the Florida Museum of Natural History recently received its largest private donation, an estimated 40,000 to 50,000 identifiable specimens.
The specimens formerly comprised the world's second-largest collection of Florida vertebrate fossils. The museum will honor Lake Wales resident John Waldrop for the donation of his collection during the fourth annual meeting of the Southeastern Association of Vertebrate Paleontology at 7 p.m. Saturday at the Paramount Plaza Hotel in Gainesville.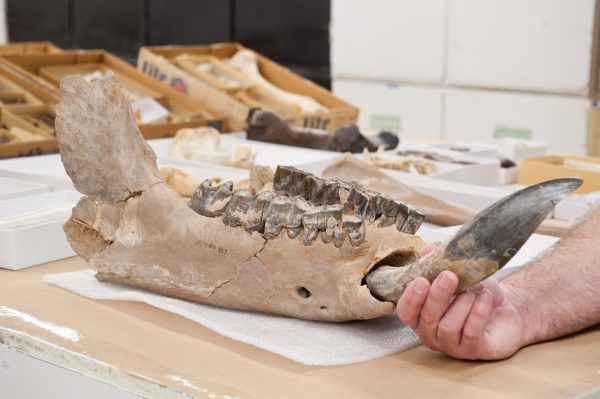 "Over the decades, Waldrop has had a longstanding influence and impact on what we've been able to do, and it's always been through his collections," said Florida Museum vertebrate paleontology curator Bruce MacFadden. "He's always been extremely generous and encouraged us to use his collection, but now it will be in the public domain forever, which sustains its value."
Vertebrate paleontology collections manager Richard Hulbert said the specimens span the entire range of Florida's fossil record, from about 10,000 to 40 million years old. The donation increases the museum's collection by about 10 percent, and the fossils are especially valuable because Waldrop had been collecting since the 1960s and maintained detailed records about locality and age, Hulbert said.
Waldrop, a retired middle school science and community college teacher, said many of the fossils were collected in areas now covered by subdivisions.
"The collection could never be duplicated," Waldrop said. "I felt it was a really important collection and I fully intended it to go to science. Richard Hulbert asked me one day if I would consider donating it and he caught me at the right time."
For about 10 years, Waldrop focused his fieldwork first on phosphate mines in South Florida, then rivers, shell pits and quarries, some of which no longer exist, he said. One of his most productive sites was the Peace River, which Hulbert said has become a hotspot for hobbyists in the last 20 years.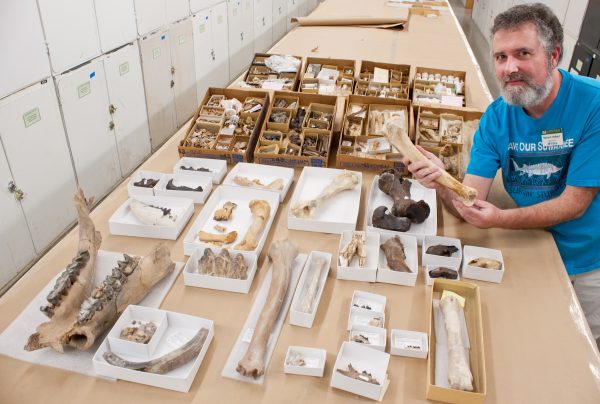 "We don't have many fossils from Peace River, but Waldrop very early on realized it was a problem, and he and his team got in there in the '70s before everyone," Hulbert said
In addition to the vertebrate fossils, the donation includes about seven times as many invertebrate specimens.
"The real value of his collection isn't yet known, but what we've picked up so far indicates there are many surprises," said Florida Museum invertebrate paleontology collections manager Roger Portell. "I pulled out one box just to see what was inside, and with a brief look could tell there were dozens of species absent from our collections."
When possible, Waldrop also collected materials stratigraphically, meaning he recorded the specific rock layers in which they were found, a method seldom used 20 years ago, Portell said. While he did not know the exact number of specimens in Waldrop's invertebrate collection, Portell said there were up to 3,000 boxes, each containing a large number of fossils.
"We're very happy to accept his collection because it will expand our holdings and give greater breadth to the number of taxa we have in our collections," Portell said. "Most of his collection sites are no longer accessible, so it greatly enhances certain aspects of our collection, and what we have leftover will go to education. It's all going to be useful."
Although Waldrop's collection was private, he said he was always willing to lend specimens to researchers from the 40-by-40-foot air-conditioned warehouse he dubbed the "Timberlane Research Organization" after the road on which it was located. He collected most of the specimens himself, with occasional assistance from his students at McLaughlin Middle School in Lake Wales and Polk Community College in Winter Haven.
Waldrop said his interest in paleontology began with a science assignment as a student at Gainesville High School. His project on shark teeth found in the creek near the school later led to his master's in geology at UF and life's ambition to understand the geology of Florida. As a teacher, he also helped influence some of his students to pursue paleontology.
"I wanted to know more about the geology of Florida than anybody else, and in some ways I think I achieved that," Waldrop said.
---
Learn more about the Vertebrate Paleontology Collection at the Florida Museum.