Adania Flemming, a doctoral candidate in the University of Florida's department of biology, was recently recognized for her extensive efforts to promote inclusion, diversity, equity and accessibility across campus. Flemming is one of two student recipients of the Alumni Association's inaugural Leadership Awards for DEI. She was also selected by UF's Center for Inclusion and Multicultural Engagement for the annual Dr. J. Michael Rollo award, which honors students who foster diversity within their communities.
"These DEI leaders represent the best of us," said Brian Danforth, executive director of the UF Alumni Association. "They're on the front lines creating opportunities, building bridges and tearing down walls."
Flemming obtained a master's degree in zoology from UF before transitioning to a Ph.D. program with co-advisers David Blackburn, the Florida Museum of Natural History's curator of herpetology, and Rose Pringle, an associate professor in UF's College of Education. During that time, Flemming has worked tirelessly to provide opportunities for her students and advocate for historically underrepresented people.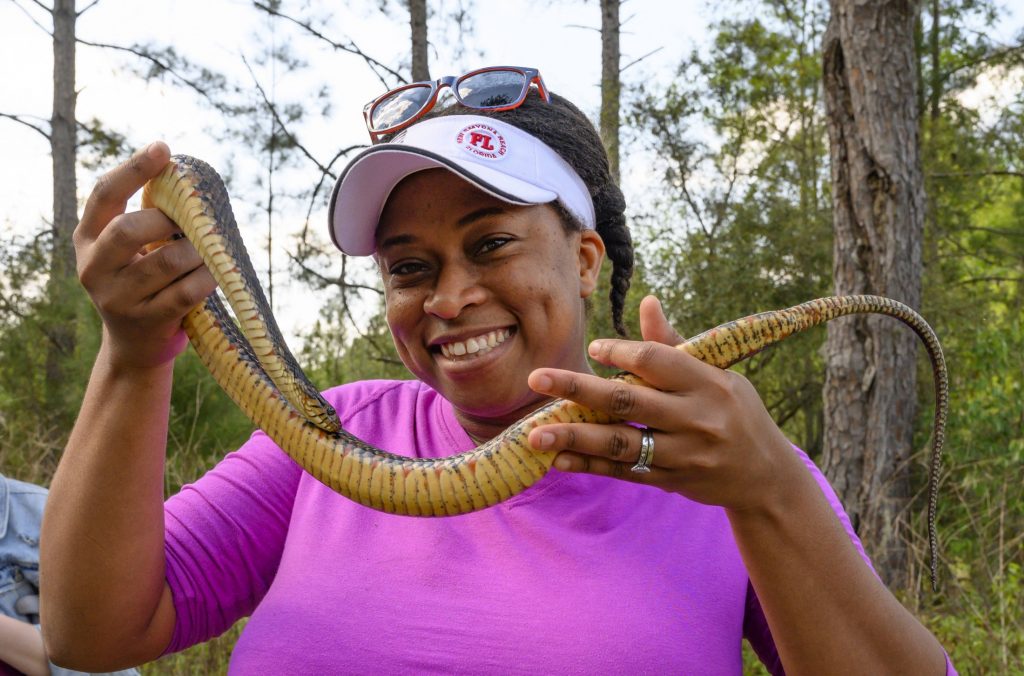 She divides her time among multiple inclusion, diversity, equity and accessibility (IDEA) committees for various institutions and has often been instrumental in shaping the goals and focus of each. She played a large role in ensuring that students had substantial representation in the department of biology's IDEA committee and received a presidential letter of commendation for her efforts to diversify the membership of the American Society of Ichthyologists and Herpetologists.
Flemming places an emphasis on education in her research and has a sharp eye for the ways in which systemic inequality affects students as they make their way through college. She's especially interested in how outreach and accessibility intersect with her passion for the natural world and museum collections. While teaching laboratories for undergraduate biology, she began incorporating museum specimens into her curriculum as a means of exposing students to the Florida Museum's collections. After receiving positive feedback from her students, she further developed this idea into an entire course on natural history museums, which she's taught every year since 2018.
"I do this work because I wish someone would have done it for me, because I don't often see people that look like me represented in STEM," Flemming said, referring to the fields of science, technology, engineering and math.
She notes that one of the biggest challenges to combating high attrition and low retention rates for people of color in the sciences lies in informing students of available opportunities.
"I can see how easily people fall through the cracks and don't get experiences because they don't know about them," she said. "So many of the students in the intro labs I taught who had resources and were doing well had no idea the museum even existed. The students who don't have access to resources and mentors really don't have a bridge at all."
Flemming saw another opportunity to extend these outreach efforts by partnering with iDigBio, the National Resource for Advancing Digitization of Biodiversity Collections. Operating on iDigBio's tenets of making museum collections broadly accessible to everyone, Flemming, Molly Phillips and Dekendrick Murray co-founded an annual iDigTrio conference with a stated goal to "expose first generation, limited-income and underrepresented students to graduate and career opportunities in the biological sciences." Now entering its third year, iDigTrio has so far hosted four conferences and has helped hundreds of high school and undergraduate students see the natural sciences as a potential career path.
"If we diversify the workforce, we'll diversify the work we're doing, because we all have different perspectives," Flemming said.
For those already working in the natural sciences, Flemming has undertaken efforts to ensure historically underrepresented students, staff and faculty are connected in an inclusive and welcoming community. In 2021, she founded and launched the first Black in Natural History Museums week, which offered several online forums, presentations and activities around a central theme of uniting and celebrating Black people who study natural history in museums. The organization has since been developed as a nonprofit and anticipates hosting another week of events in October.
"Black in Natural History Museums was about figuring out how to talk to each other about what we're going through so that we can validate our experiences, uplift each other and help museums become more inclusive," she said.
In recognition of her efforts to promote inclusivity within the Florida Museum, director Doug Jones opted to supplement the Dr. J. Michael Rollo and UF Alumni Association Leadership awards with a monetary stipend, presented May 31, to help support her work.
"I'm pleased to see this recognition of Adania's dedication to creating an inclusive, equitable and diverse space here at the Florida Museum and in the larger University of Florida and natural history communities," Jones said. "We have all benefited from Adania's DEI leadership and commitment to mentoring STEM students from diverse backgrounds."
---
Source: Adania Flemming, aflemming@flmnh.ufl.edu
Writer: Jerald Pinson, jpinson@flmnh.ufl.edu, 352-294-0452