GAINESVILLE, Fla. — Flap your wings and join a party for pollinators at the Florida Museum of Natural History and First Magnitude Brewing Co.'s Pollinator Palooza from 2 to 8 p.m. Saturday, June 17 at First Magnitude.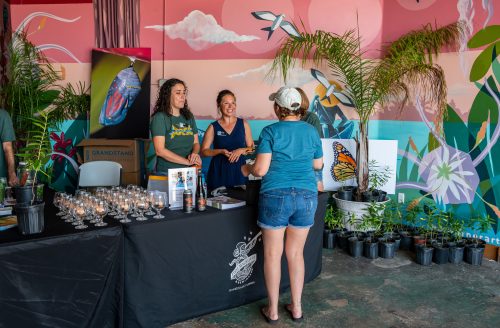 This family-friendly festival — with free plants, special beer and community partners — kicks off National Pollinator Week, which puts a spotlight on the importance of pollinators and what can be done to help their declining populations.
"We wanted to have a fun event to highlight what people can do for pollinators in their own communities," said Jaret Daniels, curator of the museum's McGuire Center for Lepidoptera and Biodiversity. "It's a party for the pollinators."
Attendees can take home a free flowering plant for their garden that will attract pollinators like bees, butterflies and moths. These nectar and host plants provide food and habitats for these important insects. Festival goers can choose one plant each; the options are Florida skullcap, Simpson's stopper, compact firebush and firebush plants.
"People can leave the event and immediately make an impact for these animals," Daniels said. "Whether in pots or in a yard, every little bit helps."
There will also be live music, food trucks and community organizations, so visitors can learn about other ways to get involved and make a difference locally. The Florida Native Plant Society, the University of Florida's Natural Area Teaching Laboratory, the UF Native Plant Nursery, the Florida Wildflower Foundation and the UF Department of Geological Sciences will each be there to provide information on how to help pollinators thrive.
The brewers at First Magnitude have crafted several beers inspired by local pollinators, some of which incorporate yeast harvested from the insects. Just like previous launches, a part of the proceeds from beer sales will go to support imperiled butterfly recovery efforts throughout Florida.
Calamintha Hibiscus Wit is a new beer that will be released at the festival. It is a Belgian-style white ale, which features locally sourced hibiscus and highlights the rare blue calamintha bee.
This striking Florida native became internationally famous when it was rediscovered in 2020. In subsequent fieldwork, museum researchers learned more about its range and nesting habits in hopes of learning the best way to support the survival of the bee, which is only found in 15 locations in central Florida.
To study this rare insect, museum researchers use a method known as capture-mark-recapture, in which every bee in an area is caught, marked and then released. This allows scientists to estimate population sizes, how far bees travel, how long they live and other traits of the bees in an area over time.
This past spring's fieldwork in the Ocala National Forest had a twist: In addition to being marked, the captured bees were also swabbed for wild yeast by Patrick Soucy, lab manager at First Magnitude, to ultimately create the Calamintha Hibiscus Wit. Bees were also swabbed on Florida Fish and Wildlife Conservation Commission property along the Lakes Wales Ridge.
"This generally doesn't happen; we're usually using specially selected yeasts and not going out into the field to see what we can catch," Soucy said. "It makes it more interesting to me."
The brewing process involves swabbing the bee and the flowers for yeast and letting the culture develop at the lab. The unpredictability of using wild yeast means that brewers aren't sure what flavors will develop or whether they will be good to incorporate. In this case, the resulting yeast colonies that came off the bee had notes of honey and apple, which led Soucy and the brewing team to produce the wit brew.
The concept of using yeast from pollinators to brew special beers began with the frosted elfin butterfly in 2019. Yeast collected during the previous fieldwork was frozen and was reused to create the Frosted Elfin Session Hazy IPA, which will also be available for purchase during Pollinator Palooza.
"The 2019 launch was hugely popular because of the swabbing of the butterfly, so we decided to incorporate that as the blueprint going forward for all our future releases," Daniels said.
Since that launch, museum staff members expanded their research on the frosted elfin and began captive breeding the rare species to aid in its recovery. Scientists from the McGuire Center collected caterpillars this past spring and now have more than 100 pupae. The plan is to breed these in the controlled environment of a lab to ensure the maximum individuals survive to be released into the wild.
A common challenge with saving the frosted elfin butterfly and the blue calamintha bee comes down to their habitat and food sources. Their primary host plants — sundial lupine and wild indigo for the butterfly, and Ashe's calamint and false rosemary for the bee — are located in habitats that have dwindled due to land conversion. These environments typically need to be managed by fire, which is used less frequently once the locales are converted to residential areas, reducing the amount of viable living spaces for the insects.
"Many of these habitats need disturbance, like fire, to get light down into the canopy. It's not possible to use fire when houses are being built a few feet away, and we end up with a lot of thick vegetation that crowds out the host plants," said Chase Kimmel, an insect conservation biologist at the Florida Museum's McGuire Center. "A hands-off approach isn't the best thing for their ecosystems."
Through the combination of captive breeding and the ongoing study of established Florida populations, researchers hope to come up with the best land management practices for the insects' survival, which could include the possibility of relocating at-risk populations to safer habitats.
This event will mark the 13th and 14th beer collaborations between First Magnitude and the Florida Museum. In addition to providing funds for research, these events allow people in the community to engage with and support science — all while enjoying a pint.
"It's one of my favorite things First Magnitude does, and it helps educate people about things in their backyards that they may not even know about," Soucy said. "Putting aside a bit of money for conservation efforts, too, is pretty awesome. I'm glad to be a close part of it, and I'm looking forward to the festival."
The final beer that will be available is the Honey Bee Citrus Blonde Ale. Light with a citrus and honey taste, it attributes much of its flavor to orange zest and honey harvested from hives located at solar farms.
For more information on Pollinator Palooza, visit www.floridamuseum.ufl.edu/event/pollinator-palooza.
-30-
Writers: Ashley Tisher, PRintern@flmnh.ufl.edu; Nikhil Srinivasan, nsrinivasan@flmnh.ufl.edu
Source: Jaret Daniels, jdaniels@flmnh.ufl.edu; Chase Kimmel, cbkimmel@ufl.edu; Patrick Soucy; patrick@fmbrewing.com
Media Contact: Kaitlin Gardiner, kgardiner@floridamuseum.ufl.edu