The Office of Museum Technology (OMT) provides the Florida Museum of Natural History with IT services essential for its day-to-day operations.
Help Desk
Computer not working? Need to make an IT purchase?  Need software installed or an OS upgrade? The Museum's IT Help Desk is here to help faculty, staff, and students and is the the primary point of contact for Museum users and their IT needs. Whatever the request, our expert team will assist you directly or engage the correct team.
Enterprise Systems
Our Enterprise Systems team manages a diverse ecosystem of server and network technologies to deliver Museum services. We keep the servers running smoothly, Museum data backed up, and network services like the Museum's websites, databases, and critical business systems up and functioning. Additionally, the Enterprise Systems Team is the technical liaison between the Museum and University of Florida central IT.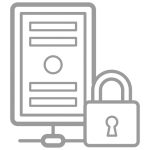 Information Security Managers
The Office of Museum Technology is the Information Security Manager (ISM) for the Museum and is responsible for coordinating Risk Assessments for all IT acquisitions, including hardware, software, and contracted services. We also respond to UF's quarterly Cyber Security Framework audits and InfoSec alerts.
Software Development
The Florida Museum frequently requires the invention of new tools to support our mission. The Office of Museum Technology Software Developers fill this need with creative solutions to complex technical challenges. Our DevOps team architects and supports the Museum's Collection Data Publishing Pipeline, delivers business process automations, and supports the Museum's extensive web infrastructure.
Collection Databases
Supporting databases for millions of specimens, digitized specimens, tissue samples, and molecular analysis is no small feat. The Collection Database Team supports the Museum's biological collection databases, assists with data migration issues, and keeps Museum databases plugged into the Collection Data Publishing Pipeline.