Join the Florida Museum and University of Florida's Thompson Earth Systems Institute at Cypress & Grove Brewing Co. for an engaging conversation in a comfortable atmosphere.
Scalloping season starts soon, which means boaters will flock to Florida's Gulf Coast, home to some of the nation's most pristine coastline. Unfortunately, bad boating practices cause considerable damage to seagrass beds that provide essential food, habitat and nursery areas to countless fish and invertebrate species. Learn about the industries supported by healthy seagrass meadows as well as helpful boating and recreational guidelines to prevent their damage.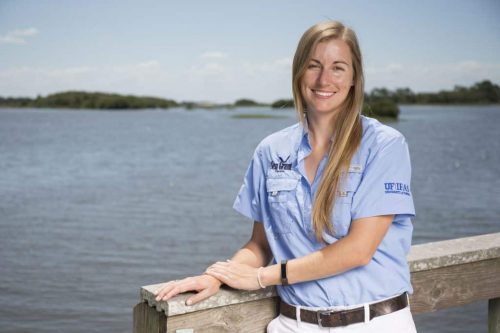 Topic: Secrets of Seagrass
Speaker: Savanna Barry, UF/IFAS Florida Sea Grant Agent at the Nature Coast Biological Station. With a background in fisheries and aquatic sciences, Barry is responsible for conducting outreach and educating the public about topics including sustainable coastal activities, citizen science and habitat restoration.
Schedule:
6:30 p.m. – Event starts! Grab a bite, brew and mingle with faculty/staff from the Florida Museum and the UF Thompson Earth Systems Institute.
7-8 p.m. – Audience discussion led by Barry.
8-8:30 p.m. – Meet representatives from local organizations.
Save the Date on Facebook Watch live starting at 7 p.m.
The event activities and discussion are FREE. Food and beverages will be available for purchase from Cypress & Grove and the Eim Thai food truck.

Header image courtesy of NOAA, photo by Heather Dine.
---
The Florida Museum may photograph or video visitors for educational and promotional purposes. Attendance to a Florida Museum event constitutes the attendee's consent regarding the possibility of appearing in Museum marketing materials.