Filmmaker Filipe DeAndrade credits animals with saving his life. In return, he has made it his mission to preserve the wild spaces where they live.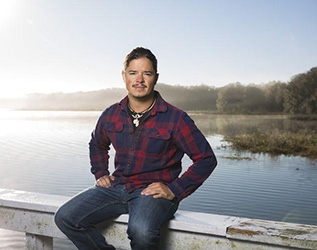 This UF graduate and incredibly entertaining star of Nat Geo WILD's Untamed gives his unfiltered look at what it's like to come face to face with wild animals, survive extreme environments and make unexpected discoveries.
Raised in poverty and surrounded by addiction and abuse, he felt voiceless. He related to animals, because they too were voiceless, and he fell in love with photography as a way to tell their stories. Now the star of Nat Geo's digital series Untamed works to save the animals that saved him. In this presentation, DeAndrade will talk about finding your passion in life and living it with intent. Along the way, he'll bring you face to face with lions, sharks, snakes, jaguars, jumping spiders, whales and one of the rarest animals in the world—a hawk moth caterpillar that resembles a venomous snake.
$25 for adults
$10 for children/UF students
Buy Tickets Save the Date on Facebook
National Geographic Live is a night of exploration through film, photography and discussion with acclaimed National Geographic photographers. Experience nature through the eyes, lenses and words of the researchers, scientists and storytellers that have made National Geographic an icon of global media.
Sponsored by: Oak Hammock at the University of Florida | Entercom Communications
National Geographic Live: Untamed at the Phillips Center in Gainesville is presented in partnership with the Florida Museum.
---
The Florida Museum may photograph or video visitors for educational and promotional purposes. Attendance to a Florida Museum event constitutes the attendee's consent regarding the possibility of appearing in Museum marketing materials.