The Florida Museum and First Magnitude Brewing invite you to a fundraiser to help support imperiled butterfly conservation in Florida. As part of the event, First Magnitude will release a specialty beer called "Bartram's Blonde," highlighting the federally endangered Bartram's Scrub-Hairstreak butterfly.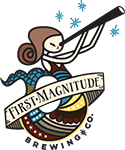 $10 includes $1 off all beers
$15 includes signature glass and $1 off all beers
T-shirts will also be available
All proceeds will directly support imperiled butterfly recovery efforts in Florida.
Save the Date on Facebook
Photo Credit: Bill Bouton