Xerces Blue butterflies were last seen in the early 1940s in the San Francisco Bay area. It is one of the first American butterflies to become extinct from habitat loss caused by urban development. In its honor, the Xerxes society was created, focused on invertebrate conservation.
Summary
Xerces Blue (Glaucopsyche xerces)
From San Francisco Co., California, 1929–1940
Collection
Story
The Xerces Blue is a small, brightly colored butterfly characterized by iridescent blue on the upper wing surfaces of males, and pale spots below. Originally described in 1852, it was endemic to, and once locally common, in the coastal sand dunes of the upper San Francisco Peninsula, including sites now within the Golden Gate National Recreation Area.
The butterfly preferred stabilized, sandy sites where its low-growing larval host plant occurred. It was of particular interest to lepidopterists, as populations of the butterfly displayed extensive variation on their wing patterns resulting in several named forms.
Unfortunately, growing urban development resulted in extensive disturbance and loss of habitat. By the early 1940s the Xerces Blue was driven to extinction, becoming one of the first and most well-known butterflies in the United States lost due to human impact. Today, the Florida Museum of Natural History's McGuire Center is one of only a few U.S. institutions with specimens of the Xerces Blue.
The butterfly's extinction inspired the foundation of the Xerces Society for Invertebrate Conservation in 1971, and in a very real sense, ushered in a renewed contemporary emphasis on the conservation of insects and their habitats.
Jaret Daniels
Director, McGuire Center for Lepidoptera and Biodiversity*
Florida Museum of Natural History
---
Exhibit
On display Sept. 23, 2017-Jan. 7, 2018, Rare, Beautiful & Fascinating: 100 Years @FloridaMuseum celebrated the Museum's rich history. Each Museum collection was asked to contribute its most interesting items and share the stories that make them special. Though the physical exhibit is closed, this companion website remains online, providing an opportunity to experience the Florida Museum's most treasured specimens.
Exhibit Area: Extinction

Theme: Lost Biodiversity

---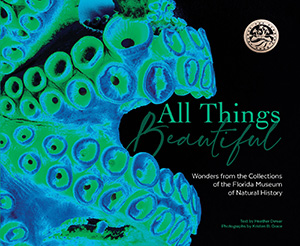 Want to see more? Explore more than 300 breathtaking color photos of plants, animals, fossils and cultural heritage materials from the Florida Museum of Natural History's collections in the award-winning book All Things Beautiful available from the University Press of Florida.
---
*This title was accurate at the time the exhibit was on display in 2017. Please visit the collection website to verify current staff and student information.