Van Hyning became the Museum's first director in 1914, and ran it virtually unassisted for 29 years. He started the Museum's mollusk collection, now among the five largest in the U.S. and second largest in the world in online access.
Summary
Van Hyning Cockle Shell (Dinocardium robustum vanhyningi)
From Sarasota Co., Florida, early 20th century
From the Thompson Van Hyning Collection
Collection
Story
Florida Museum of Natural History houses a collection of 3 million mollusks, the group that includes clams, snails, squids and octopus. It is the largest collection of mollusks in the Southeast and one of the largest three or four in the U.S. Information about all our mollusk specimens is publicly available online and it's the largest single electronically available mollusk database. This important collection and its database are studied by researchers around the world.
The collection began in 1914 as an attempt by the Museum's first director, Thompson Van Hyning, to document Florida's varied animal life. Florida and the Southeast was not that well-known at the time. Van Hyning collected, studied and shared his knowledge of Southeastern mollusks with friends and colleagues who helped document and describe the many species found in Florida, one of the most biologically diverse states in the country. The curator at Harvard Museum named a large and particularly brightly colored purplish-red form of the Giant Atlantic Cockle in honor of Van Hyning and his work.
John Slapcinsky
Collection Manager, Invertebrates*
Florida Museum of Natural History
---
Exhibit
On display Sept. 23, 2017-Jan. 7, 2018, Rare, Beautiful & Fascinating: 100 Years @FloridaMuseum celebrated the Museum's rich history. Each Museum collection was asked to contribute its most interesting items and share the stories that make them special. Though the physical exhibit is closed, this companion website remains online, providing an opportunity to experience the Florida Museum's most treasured specimens.
Exhibit Area: 100 Years of History

Theme: Historical Collections

---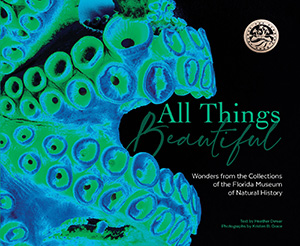 Want to see more? Explore more than 300 breathtaking color photos of plants, animals, fossils and cultural heritage materials from the Florida Museum of Natural History's collections in the award-winning book All Things Beautiful available from the University Press of Florida.
---
*This title was accurate at the time the exhibit was on display in 2017. Please visit the collection website to verify current staff and student information.