Seminole dolls portray clothing and hairstyles worn by traditional Seminole men and women, with cotton "patchwork" cloth wrapped around palmetto fiber bodies. The Museum's doll collection is among the largest in the world, many gifted by Anne and Charles Reynolds.
Summary
Seminole Dolls
Made by Seminole artists, South Florida
Dates to 1930–1950
Gift of Anne and Charles Reynolds
Collection
Story
This pair of dolls, which was donated by Anne and Charles Reynolds, is an example of the traditional palmetto-fiber doll. The male wears a traditional long shirt, a kerchief and a turban. Unlike female dolls, males have arms, legs and feet, so they are more difficult to make. The female doll wears a skirt and a cape, and has a beaded necklace and silverwork, and a traditional hair board. The women wore their hair long and stretched it over a cardboard hair board. Beyond aesthetic appearances, the hair board also provided some shade while the women worked. Both dolls sport beautiful outfits and each has two bands of patchwork.
Bill Marquardt
Curator, South Florida Archaeology & Ethnography*
Director, Randell Research Center*
Florida Museum of Natural History
---
Exhibit
On display Sept. 23, 2017-Jan. 7, 2018, Rare, Beautiful & Fascinating: 100 Years @FloridaMuseum celebrated the Museum's rich history. Each Museum collection was asked to contribute its most interesting items and share the stories that make them special. Though the physical exhibit is closed, this companion website remains online, providing an opportunity to experience the Florida Museum's most treasured specimens.
Exhibit Area: Faces of the Museum

Theme: Generous Gifts

---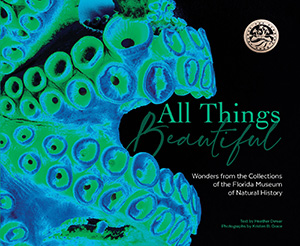 Want to see more? Explore more than 300 breathtaking color photos of plants, animals, fossils and cultural heritage materials from the Florida Museum of Natural History's collections in the award-winning book All Things Beautiful available from the University Press of Florida.
---
*This title was accurate at the time the exhibit was on display in 2017. Please visit the collection website to verify current staff and student information.