Spaniards brought citrus to the Americas in the 15th century and orange trees became common in Spanish colonial gardens. Citrus farming has since become important to Florida's economy – the vast majority destined for orange juice.
Summary
Orange Blossom (Citrus sinensis)
From Alachua Co., Florida, 1976
Florida State Flower
Collection
Story
This is a dried, pressed Herbarium specimen of a Hamlin Orange tree, including a branch with flowers and sections of the fruit, which was collected in 1976 from the citrus research plots here on the UF campus.
Orange trees are such a common and iconic aspect of life in Florida that the orange blossom was designated by the legislature as the state flower. This has led many Floridians to incorrectly assume that oranges are native, when in fact, oranges originated in China and were introduced to Florida by 16th century Spanish explorers. Florida's subtropical climate and sandy soils proved to be ideal for cultivating citrus, and before long seedlings had escaped from cultivation and become naturalized in the wild.
When the noted English naturalist William Bartram traveled through northeast Florida in April of 1774, he reported groves of orange trees in full bloom and the air filled with their sweet fragrance. By the 19th century, citrus was being grown throughout Florida as well as in Georgia and South Carolina. A devastating freeze in 1835 and another one in the winter of 1894-1895 knocked out most of the more northern citrus orchards. Since that time, commercial production in Florida has shifted to the central and southern parts of the state.
At its peak in the 1990s, Florida's citrus industry consisted of 8,000 growers, who cultivated over 665,000 acres of land and produced 224 million boxes of fruit per year–making citrus the mainstay of the state's agricultural economy. Unfortunately, a bacterial disease called citrus greening was discovered in Florida in 2005 and this has had a profound negative effect on our citrus industry. Citrus greening results in misshapen, bitter fruit that are not suitable for consumption. For the 2016-2017 growing season, experts are predicting that Florida citrus production will be 70 million boxes. This is a two-thirds reduction in fruit production from the peak years of 1998-2000. Hopefully, researchers will succeed in controlling this disease before citrus is completely eliminated from the state.
I can't imagine living in Florida without friends and neighbors sharing oranges from their trees in the winter months, and the air perfumed by orange blossoms each spring.
Marc Frank
Extension Botanist, Herbarium*
Florida Museum of Natural History
Additional Information
The orange blossom is Florida's State Flower
---
Exhibit
On display Sept. 23, 2017-Jan. 7, 2018, Rare, Beautiful & Fascinating: 100 Years @FloridaMuseum celebrated the Museum's rich history. Each Museum collection was asked to contribute its most interesting items and share the stories that make them special. Though the physical exhibit is closed, this companion website remains online, providing an opportunity to experience the Florida Museum's most treasured specimens.
Exhibit Area: 100 Years of History
Theme: Sunshine State Symbols
---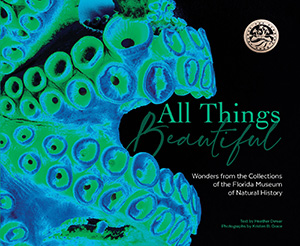 Want to see more? Explore more than 300 breathtaking color photos of plants, animals, fossils and cultural heritage materials from the Florida Museum of Natural History's collections in the award-winning book All Things Beautiful available from the University Press of Florida.
---
*This title was accurate at the time the exhibit was on display in 2017. Please visit the collection website to verify current staff and student information.