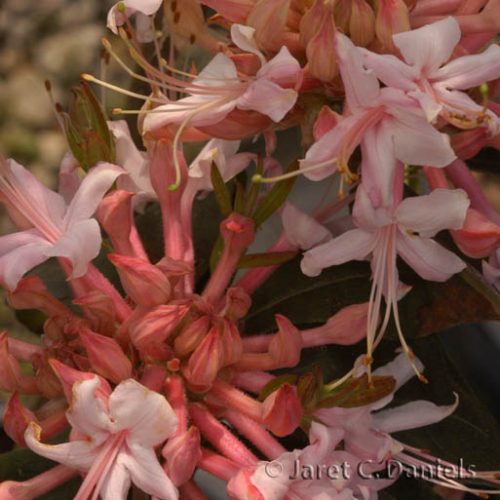 General description: Deciduous woody and loosely branched shrub with alternate leaves and showy, white to pink tubular flowers that emerge before leaves. Easy to cultivate. Requires moist, well drained locations in full sun to partial shade. Increased sunlight enhances flowering. Showy landscape plant that provides outstanding spring color. Fragrant flowers attract butterflies and other pollinators.
Type: Deciduous shrub
Flower: Tubular, whitish to pinkish tubular, fragrant flowers
Bloom time: Early spring
Soil type: Rich, well-drained, acidic soils
Maximum height: 15 feet
Candidate for home gardens: Showy, fragrant flowers
Availability in nursery: Occasional. More frequent in specialty and native plant nurseries
Frenquency in the wild: Occasional
Habitat: Bay swamps, flatwoods, moist to wet hammocks, upland mixed forests, sinks, bluffs hardwood forests, wetlands
County: Alachua, Baker, Bay, Bradford, Calhoun, Clay, Columbia, Duval, Escambia, Franklin, Gadsden, Hamilton, Jackson, Jefferson, Leon, Liberty, Marion, Nassau, Okaloosa, Santa Rosa, Wakulla, Walton, Washington
Full Sun
Partial Sun
Moderate watering
---
The Florida Wildflowers & Butterflies projects at the Florida Museum are sponsored in part by the State of Florida and the Florida Wildflower Foundation, Inc.