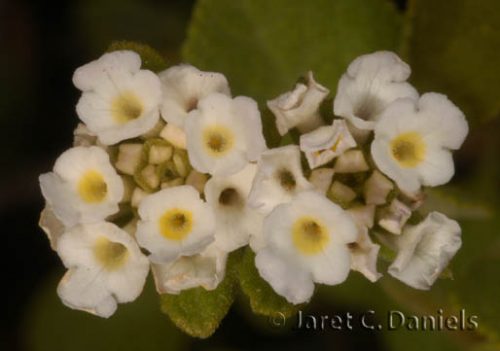 General description: Upright, branching wood shrub with rough, opposite leaves and terminal clusters of small cream-white flowers. Easy to cultivate. Requires full sun and well-drained soils. Drought tolerant. Excellent long-blooming subtropical shrub that can be pruned to dense, compact form. Flowers attract butterflies and other pollinators.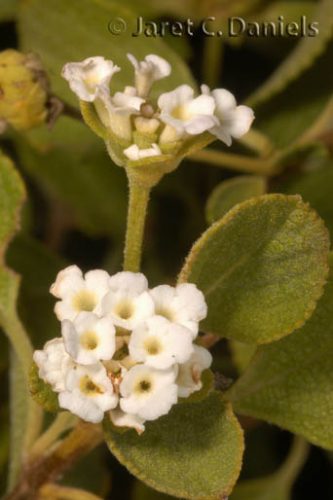 Flower: Terminal clusters of small cream-white flowers
Bloom time: Spring through fall
Soil type: Dry, well-drained, sandy or limestone soils
Maximum height: 5 feet
Candidate for home gardens: Easy to cultivate. Long flowering period.
Availability in nursery: Specialty and native plant nurseries.
Frenquency in the wild: Common
Habitat: coastal uplands, ruderal
County: Brevard, Broward, Charlotte, Collier, Hillsborough, Indian River, Lee, Manatee, Miami-Dade, Monroe, Palm Beach, Pinellas, Sarasota, St. Lucie
Full Sun
Drought Tolerant
---
The Florida Wildflowers & Butterflies projects at the Florida Museum are sponsored in part by the State of Florida and the Florida Wildflower Foundation, Inc.