It's the kind of record no one wants to break: the most shark attacks in a single year. But 2015 did just that, with 98 unprovoked attacks worldwide, beating the previous record of 88 set in 2000, according to the International Shark Attack File housed at the University of Florida.
Six of the attacks were fatal.
The all-time high came as no surprise to George Burgess, curator of the world's clearinghouse of shark-attack data housed at the Florida Museum of Natural History on the UF campus. With shark populations rebounding and more and more people in the ocean, bites are inevitable, he says.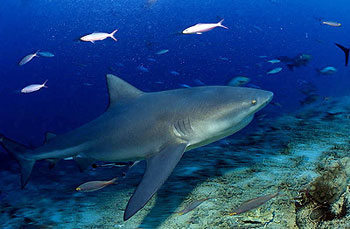 "Sharks plus humans equals attacks. As our population continues to rapidly grow and shark populations slowly recover, we're going to see more interactions."
Although fatalities rose from last year's low, which saw only three shark-related deaths, they remained stable when looking at the big picture, precisely matching the decade average, Burgess said. Of the six fatalities, two happened off the Indian Ocean island of Réunion, bringing its total deaths to seven since 2011. Australia, Egypt, New Caledonia and the United States each had single fatalities.
The U.S. led the world in attacks with 59, driven by an abundance of coastline with an ever-growing number of swimmers, surfers and divers in the water, Burgess said. As usual, Australia and South Africa rounded out the top three, with 18 and 8 attacks, respectively.
Within the U.S., Florida had the most attacks with 30, followed by North and South Carolina with eight each. Hawaii saw seven attacks and the country's only fatality, with the remaining incidents occurring in California, Texas, Mississippi and New York.
The New York attack brings to light another factor in the increase in attacks: warming ocean waters. Ocean temperatures that spike earlier in the season and warm a larger range of coastline draw both sharks and humans to the same waters, Burgess said.
"We can and should expect the number of attacks to be higher each year," he said. "When we visit the sea, we're on their turf."
More
Learn more about the International Shark Attack File at the Florida Museum.
Learn more about Ichthyology at the Florida Museum.