A new study by researchers from five institutions including the University of Florida introduces the first method to directly measure body temperatures of extinct vertebrates and help reconstruct temperatures of ancient environments.
The study, appearing in this week's online early edition of Proceedings of the National Academy of Sciences, describes how scientists could use carbon and oxygen isotopes from fossils to more accurately determine whether extinct animals were warm-blooded or cold-blooded and better estimate temperature ranges during the times these animals lived.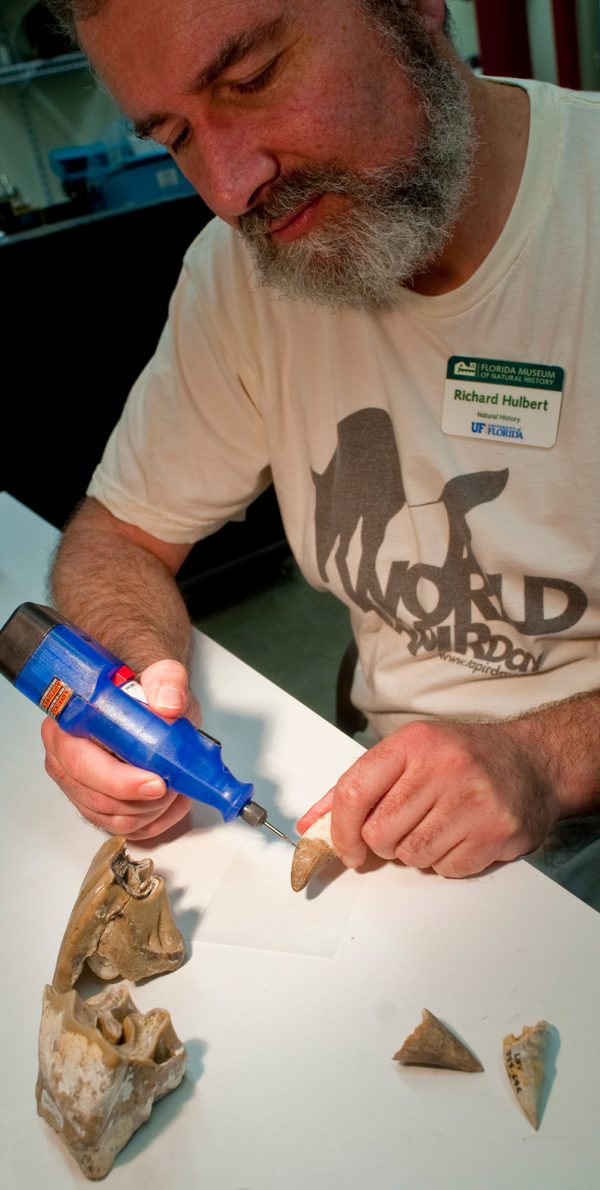 "Without a time machine, it has previously been impossible to directly take the temperature of extinct animals such as dinosaurs or megalodon sharks," said study co-author Richard Hulbert, a vertebrate paleontologist at the Florida Museum of Natural History on the UF campus. "The method described in the study has been shown to work with 12-million-year-old fossils from Florida and the next step is to look at even older fossils. For example, we have no teeth of Titanoboa, the largest snake ever discovered, but we could use 60-million-year-old crocodylian teeth from the same deposit to find out more about the snake's environment."
Funded in part by the National Science Foundation, the new "clumped-isotope" paleothermometer method used in the study analyzes two rare heavy isotopes, carbon-13 and oxygen-18, found in tooth enamel, bones and eggshells.
"Clumping is temperature dependent, so at low temperatures you get more clumping together in a mineral while high temperatures mean less clumping," said lead author and California Institute of Technology postdoctoral scholar Robert Eagle. "If you can measure the clumping accurately enough, you can work out the temperature at which a mineral formed. In the case of teeth and bone, this will be the body temperature of the organism."
The researchers first tested the method on modern species: the white rhinoceros, Indian elephant, Nile crocodile, American alligator and sand tiger shark. The study confirmed the rhinoceros and elephant, like all mammals, are warm-blooded, and their tooth enamel forms at about 37 degrees Celsius. Researchers confirmed the accuracy within 2 degrees Celsius by measuring teeth of modern sharks from temperature-controlled aquariums. In the next stage of the study, researchers tested fossils of mammoths and older extinct Florida alligator and rhinoceros species.
"The method we present is a big advance because it allows a direct measurement of the body temperature of extinct species, free from the assumptions required with other approaches," Eagle said.
Hulbert said previous research to measure body temperatures of extinct species by comparing concentrations of oxygen-16 and oxygen-18 involved making several assumptions about climate during mineral formation including average humidity of a region, the degree of seasonality and distance from nearest ocean.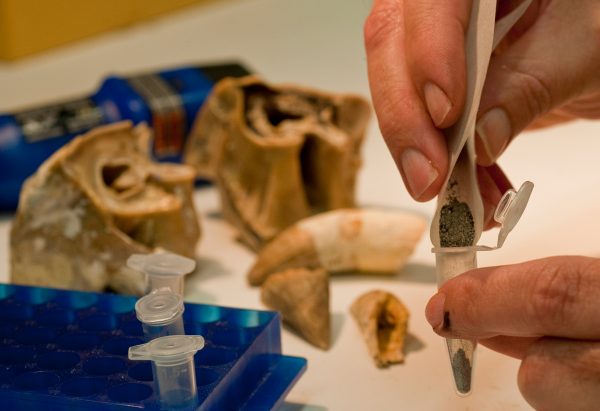 The study authors concede there are limitations to the clumped isotope analysis method for studying the evolution of thermoregulation. The results are not a lifelong record and only provide a snapshot of temperature of that animal's body part at the time of formation. Hulbert also said if the tooth enamel has been significantly altered or chemically changed over geologic time, the method will not work.
Eagle said further testing of different-sized dinosaurs and other extinct vertebrates will provide more evidence about whether they were warm- or cold-blooded.
"Temperatures in the range of 26 to 30 degrees Celsius would suggest dinosaurs were similar to alligators and crocodiles," Eagle said. "Temperatures of 36 degrees or higher would be interesting but would not necessarily mean that they were warm-blooded like mammals. It's possible the higher body temperature could be a result of their large body mass, which allows greater heat retention than smaller cold-blooded animals like alligators. This question will be better answered after measuring dinosaurs of different sizes."
Other study authors are John Eiler of the California Institute of Technology; Edwin Schauble of the University of California, Los Angeles; Thomas Tütken of the Universität Bonn in Germanyand Aradhna Tripati, who has appointments at the California Institute of Technology, UCLA and the University of Cambridge.
---
Learn more about Vertebrate Paleontology at the Florida Museum.