The American Association of School Libraries recently announced its 2016 list of the Best Apps for Teaching & Learning, including the interactive data-gathering application Map of Life created by a partnership between the University of Florida and Yale University.
Built on 100 years of knowledge, users can log, track and identify species from anywhere in the world thanks to a recording feature on the mobile app. Citizen scientists contribute to the biodiversity data available to scientists by adding the location of each plant or animal while documenting changes in wildlife across the globe.
"The MOL mobile application gives citizen scientists a global field guide of unparalleled breadth and depth," said Rob Guralnick, associate curator of informatics at the Florida Museum of Natural History on the UF campus, who led the project with Walter Jetz, a Yale University associate professor of ecology and evolutionary biology. "Its coverage is global and it works offline, so you can use it in the remotest jungles or the urban wilds."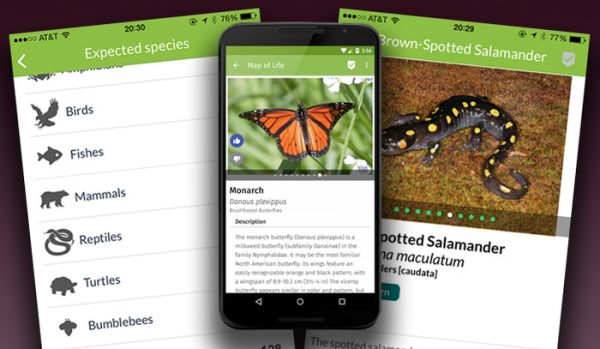 The Map of Life was recognized as one of the best science, technology, engineering and math apps.
The list of 25 best apps provides technology resources for school librarians and teachers. The user-friendly apps foster the qualities of innovation, creativity, active participation and collaboration as well as encourage a community of learners to explore.
The Map of Life app is available in six languages for iOS and Android platforms. For more information visit https://auth.mol.org/mobile.
For more information about the Map of Life project, visit http://mol.org/.
---
Learn more about the Map of Life project.