Jonathan Bloch has been appointed chair of the Florida Museum of Natural History department of natural history.
In the new role, Bloch plans to work with the museum's team of faculty curators, collections managers, postdoctoral researchers and students to continue documenting the world's biodiversity and cultural heritage.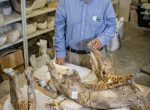 "As we think about new initiatives and strategic plans, I look forward to working with the faculty and administration to help leverage past success into even stronger interactive collections-based research programs for the future," said Bloch, who was appointed in August. "This includes improving infrastructure for collections and teaching as well as utilizing new technologies to maximize the impact of our collections for research and education."
The department has 30 faculty who manage about $65 million in external grant support for research and collection activities.
Bloch joined the Florida Museum in 2004 as an assistant curator of vertebrate paleontology. He will continue his duties as a curator of vertebrate paleontology, a position he has held since 2014. Bloch, who has co-authored more than 90 professional publications, is also a University of Florida Term Professor and serves on the editorial board for the Journal of Mammalian Evolution.
"While I will have less time for my own fieldwork and research than I am used to, I know the vertebrate paleontology division will be as productive as ever thanks to our enormously talented and hard-working team of staff, volunteers and students," Bloch said.
Bloch replaces David Reed, who served as department chair for six years. Reed, the museum's curator of mammals and associate director for research and collections, recently was appointed an associate UF provost.
One of the largest university-based resources in the world, the Florida Museum's department of natural history employs 30 faculty curators and 22 collection managers who help maintain more than 40 million specimens and artifacts.
For more information, visit www.floridamuseum.ufl.edu/nhdept.
---
Source: Jonathan Bloch, jbloch@floridamuseum.ufl.edu, 352-273-1938
Learn more about the Department of Natural History at the Florida Museum.