GAINESVILLE, Fla. — The Florida Museum of Natural History's Science Surprises program has expanded to now take place throughout the year thanks to more than $40,000 in funding from the Children's Trust of Alachua County since 2022.
The program, which began during the 2019 school year, consists of a four-part series designed to educate children in afterschool programs about science through hands-on activities and demonstrations. These multi-lesson presentations are focused on a central topic like physics, engineering and Florida natural history and use real objects from the museum's collections. Alberto Lopez Torres, the Florida Museum youth outreach coordinator who created the program, prioritizes interactivity and creativity, ensuring that each session gives participants the opportunity to build something and take it home.
"Science Surprises allows us to establish these relationships and create a pipeline for these kids to engage with museum culture," Lopez said. "It's very fun when you go to these centers and the kids remember you by name. Sometimes they answer the questions we ask them because they learned it with us previously, and that's the most awesome feeling."
After a strong start of 44 sessions across seven organizations in its first year, the COVID-19 pandemic put a brief pause on the program. Despite other museum offerings like the Butterfly Connection Program and Can You Dig It? being put on hold, Science Surprises pivoted toward virtual and hybrid programming. Its flexibility ensured it remained successful, and the museum partnered with over a dozen organizations to hold more than 60 hybrid sessions during the 2020 and 2021 school years.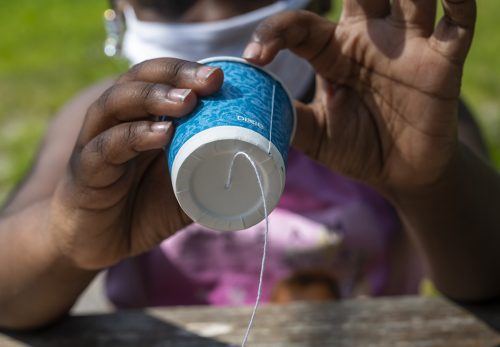 As educational activities across the country returned to normalcy in 2022, a grant from the Children's Trust allowed the program to take place during the summer, expanding its reach beyond the school semester for the first time. The grant also provides funding to host Science Surprises at no cost for local organizations working with low-income families, youth in foster care and families receiving governmental assistance.
"The Children's Trust was attracted with the fact that the program was targeted to children who have unmet science education needs, such as STEM," said Daniel Douglas, communications manager at the Children's Trust of Alachua County. "We look forward to working with the Florida Museum of Natural History and its innovative programs."
The grant's funding also made it possible to hire additional staff members to keep up with the increased programming. Museum educators travel to multiple locations every week, hosting up to 14 sessions a day during the summer. The additional support helped the Science Surprises program explode in outreach, leading to 213 programs across seven organizations totaling thousands of hours and over 2,400 children in attendance in the summer of 2022.
"Having external funding is what keeps the program alive. I don't think it would be possible to have the team and supplies that we have without Children's Trust," said Andie Parker, an outreach education assistant at the Florida Museum.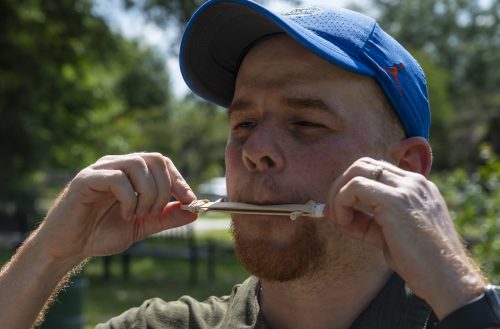 The program's growth has allowed children from all over the county, who could previously not be reached, to participate at more convenient locations and more often. Increased exposure and repetition allow museum educators to connect with participants on a personal level, making for a more enriching educational experience.
"The biggest benefit is accessibility," said Elizabeth Clark, an outreach education assistant at the Florida Museum. "When a program is funded, more organizations are able to benefit from what is being offered. And more kids are reached because we are able to build direct relationships with these organizations and reduce inaccessibility barriers like lack of transportation and funds."
With a nearly 500% increase in programming since 2019, funding from the Children's Trust has been essential in expanding the program's reach to fulfill its mission of providing interactive science education to underrepresented youth in local communities. Some of the organizations Science Surprises has worked with include the North Central Florida YMCA programs located in Gainesville, Hawthorne and Micanopy; in addition to Kids Count and the Woodland Park Boys and Girls Club, among others. Since the start of the new year, the program has also welcomed Girls Place, Inc. and Partnership for Strong Families.
Science Surprises' successful record continued in 2023, with over 270 programs in the summer and the school year — and more to come. With support from the Children's Trust, this year also saw the expansion of Science Surprises programs to the public for the first time. Free sessions were held at every branch of the Alachua County Library District system during the summer.
For more information on Science Surprises or to organize a session for your nonprofit organization, visit www.floridamuseum.ufl.edu/educators/outreach/science-surprises.
-30-
Writers: Aleidys Lopez Romero, Ashley Tisher
Sources: Alberto Lopez Torres, alopez@floridamuseum.ufl.edu; Daniel Douglas, ddouglas@childrenstrustofalachuacounty.us
Media Contact: Kaitlin Gardiner, kgardiner@floridamuseum.ufl.edu