GAINESVILLE, Fla. — Put on your dancing shoes and get ready for the Florida Museum of Natural History's first silent disco! This Discovery Nights fundraiser will be held Sept. 30 from 8 p.m. to 12 a.m. to support student research, internships and fieldwork opportunities.
At silent discos, guests dance the night away while listening to music on specially designed wireless glowing headphones instead of speakers. Guests will be able to match their music tastes by switching through multiple channels, each featuring songs from different eras.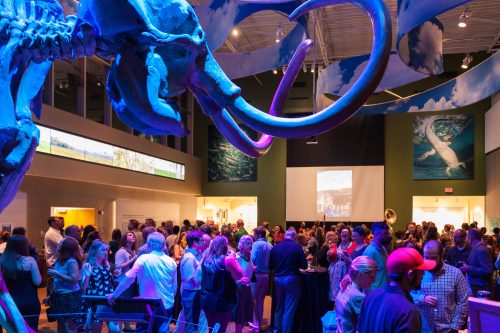 "We're inviting the community to a night of discovery as the museum transforms into a science-for-all dance hall," said Kara Schwartz, the Florida Museum's assistant director of strategic initiatives. "The silent disco format will allow guests to choose their own adventure — whether they want to chat with researchers and geek out over curiosities from our collections or dance to the grooves of DJ Nickfresh, there's something for everyone."
Upon arrival, guests will check in at the front desk, pick up their personal headsets for the night, and can then grab refreshments and light bites or explore the exhibits. Museum researchers ranging in fields from biodiversity informatics to insect population genetics to historical archeology will be stationed around the dance floor available to chat with guests from 8 p.m. to 10 p.m.
At 9 p.m., guests will be encouraged to boogie the night away in their favorite funky outfit as DJ Nickfresh starts the party with a dance through some of the museum's permanent exhibits. At this time, all exhibits will close for the remainder of the evening.
To attend, guests may choose to purchase tickets or sponsorship packages. Individual tickets are priced at $85; guests must be at least 21 years of age on the date of the event to attend. Sponsorship tiers are available at $500, $1,000 and $2,500.  All sponsorships are eligible for tax deductions and include event tickets as well as recognition on the museum's donor wall for one year. Higher tier sponsors can also receive a collection tour and recognition at the event and on social media.
Past fundraising events, like "Drink with the Extinct" and themed "Passport" galas, have funded the establishment of butterfly gardens at local schools, the creation of the museum's "Discovery Zone" exhibit and allowed Alachua County fourth graders to partake in free two-hour programs at the museum since 2015. Discovery Nights will fund the Gapenski Endowment, which directly supports graduate student field research, student presentations at research conferences and superior accomplishment awards.
"In just the past year, the Gapenski Endowment has made it possible for the Florida Museum to support graduate student research in the field, including on birds in the Amazon, fossil vertebrates from caves in the Dominican Republic and moths in Australia," said David C. Blackburn, the Florida Museum's curator of herpetology and associate chair of the department of natural history. "It has also supported students traveling to conduct research in other natural history museums, including the Missouri Botanical Garden, Yale Peabody Museum, American Museum of Natural History and the University of Kansas; as well as to present their research at conferences focused on archeology, biology and paleontology in India, Norway and across the U.S."
Guests who are unable to attend can still donate to the Gapenski Endowment at www.uff.ufl.edu/giving-opportunities/019549-louis-c-and-jane-gapenski-endowed-fellowship.
"We're excited to share what the museum has to offer, raise important funding for student support and gain new lifelong fans," said Schwartz.
To purchase tickets for Discovery Nights or become an event sponsor, visit www.floridamuseum.ufl.edu/event/discovery-nights.
-30-
Writer: Aleidys Lopez Romero
Sources: Kara Schwartz, kschwartz@flmnh.ufl.edu; David C .Blackburn, dblackburn@flmnh.ufl.edu
Media Contact: Kaitlin Gardiner, kgardiner@floridamuseum.ufl.edu