GAINESVILLE, Fla. — Spring into the gardening season with some vibrant new plants. In celebration of Earth Day, the Florida Museum's spring plant sale returns April 21.
Featuring more than 200 species of accent, host, native and nectar plants, the sale will take place at the lawn surrounding the Big Max sculpture near the museum from 10 a.m. to 5 p.m. April 21 and 22, and 1 to 5 p.m. April 23.
Visitors can peruse a wide assortment of plants, many of which attract butterflies and other pollinators. Whether someone is looking to add some greenery to a dorm room or tackling a large garden beautification project, there is a plant for everyone.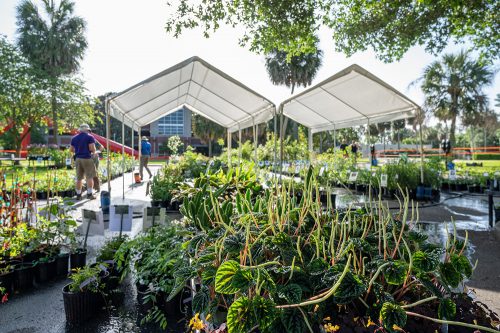 "I am always excited to offer lots of plant diversity to match the needs of as many visitors' spaces as possible," said Ryan Fessenden, manager of the museum's "Butterfly Rainforest." "We have everything ranging from 4-inch houseplants to native trees in 3-gallon pots."
The sale is first come, first served, with prices ranging from $3 to $20, depending on plant size. All proceeds will benefit the "Butterfly Rainforest."
"As a plant lover, I cannot wait for some of the new and rare plant species making an appearance this year," Fessenden said. "There are a limited number of plants, so I always tell visitors to come early."
For a complete list of available plant species, visit www.floridamuseum.ufl.edu/shops/plants/biannual-sale. Visitors looking for particular plant species are encouraged to check the list often, as museum staff members will update it as plants are sold.
Visitors can pay via cash, credit or debit card at the museum's Collectors Shop or at a register located adjacent to the plant sale. People who are 18 or older can sign up to volunteer and receive 15% off their purchase. For more information on available shifts, visit www.signupgenius.com/go/10c0d4baaac2aa0f49-2023#.
For more information about the plant sale, visit www.floridamuseum.ufl.edu/event/plant-sale.
-30-
Writer: Aleidys Lopez Romero, PRintern@flmnh.ufl.edu
Source: Ryan Fessenden, rfessenden@flmnh.ufl.edu
Media Contact: Kaitlin Gardiner, kgardiner@floridamuseum.ufl.edu