GAINESVILLE, Fla. — The Florida Museum of Natural History has finished the design and development stage of its newest permanent exhibit, "Water Shapes Florida." Construction is set to begin later this month, with an anticipated open date of spring 2024.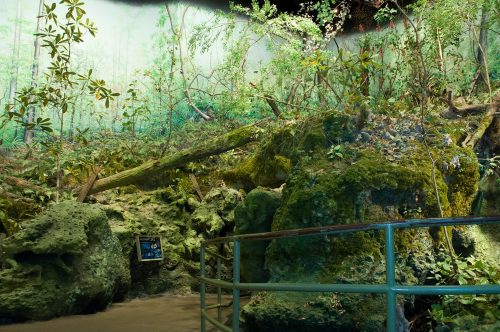 The iconic "Northwest Florida: Waterways & Wildlife" exhibit will be renovated and reimagined to present a different perspective of the state's natural resources.
"We recognize this as a huge opportunity for us as the state museum of natural history to tell the story of water, arguably Florida's most important resource, and in a compelling way that both informs and inspires conservation and stewardship," said Darcie MacMahon, the Florida Museum's director of exhibits and public programs.
The "Northwest Florida" exhibit will close beginning Feb. 27, and "Water Shapes Florida" will open early next year. The new exhibit will be free to all visitors.
Guests can look forward to a glass-bottom boat experience that will simulate what it's like to ride down some of Florida's beloved waterways while educating visitors on the challenges and importance of maintaining healthy springs.
A Recharge Lounge and Water Lab will welcome guests to take part in unique educational experiences like an interactive exploration of Florida's aquifer and to learn about current research with multimedia displays, interpretive graphics and museum specimens.
A field cabin replica, complete with simulated weather patterns outside its LED screen "windows," will welcome visitors to a hammock forest and limestone cave.
"The existing cave actually inspired the new exhibit – it is a perfect platform for talking about Florida's unique geology and the spongelike limestone aquifer beneath our feet that contains our freshwater supply," MacMahon said. "Renovations will transform the rest of the exhibit hall into a more contemporary experience that explores the water story."
The Northwest Florida Hall was the first permanent exhibit to open in Powell Hall more than 20 years ago in 2000. Some of its most iconic elements will live on and be incorporated into "Water Shapes Florida" with new refurbishments and technology. The museum is keeping sustainability at the forefront of the renovation process, with emphasis on reusing components when possible and relocating others to museums and educational centers.
"The popular existing hammock and cave environments will be brought to life with new lights, sound and media. I think visitors will enjoy seeing their favorite parts of the exhibit in a whole new way," said Florida Museum exhibit coordinator Julie Waters.
The exhibit is funded in part by a $100,000 donation from Duke Energy Foundation and a $500,000 grant from the Florida Department of State. Further funding is being provided by gracious gifts from corporations, family foundations and museum supporters.
To donate to this exciting new endeavor, visit www.uff.ufl.edu/giving-opportunities/024027-florida-water-exhibit.
-30-
---
View more renderings for what the exhibit will look like; plans are subject to change:
---
Writer: Nikhil Srinivasan, nsrinivasan@floridamuseum.ufl.edu
Source: Julie Waters, jmwters@flmnh.ufl.edu; Darcie MacMahon, dmacmahon@flmnh.ufl.edu
Media contact: Kaitlin Gardiner, kgardiner@floridamuseum.ufl.edu