GAINESVILLE, Fla. — The Florida Museum of Natural History looks to the past, present and future as it tells "The Story of Florida Water." Visitors will soon be able to experience a simulated glass-bottom boat ride, "Water Lab" and more as part of the new exhibition.
The exciting new project will reimagine the museum's historic "Northwest Florida: Waterways & Wildlife" and will be free to all visitors. Construction is anticipated to begin in 2022.
"As the state natural history museum, we believe we must inspire and empower our visitors to become informed stewards of Florida's critical water resources," said Darcie MacMahon, Florida Museum director of exhibits and public programs. "We are confident the exhibit will promote awareness, create appreciation and inspire action."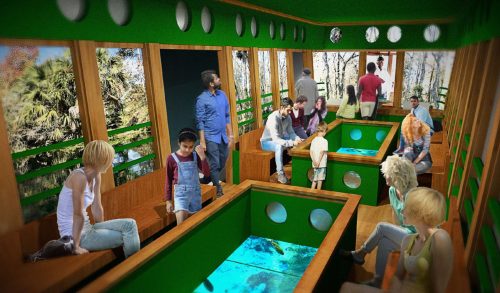 State-of-the-art immersive components will explore Florida's significant water resources, examine the critical role water plays in the state's developing history and offer ways for the museum's more than 200,000 annual visitors to make a difference.
A field cabin replica, complete with simulated weather patterns outside its LED screen 'windows,' will welcome visitors into a hammock forest and limestone cave. These iconic elements of the "Northwest Florida" exhibit will live on and be incorporated into "The Story of Florida Water" with new refurbishments and technology.
Another engaging plan for the exhibit is a glass-bottom boat experience that will simulate what it's like to ride down some of Florida's beloved waterways while educating visitors on healthy and at-risk springs.
A "Recharge Lounge" and "Water Lab" will welcome guests to take part in unique educational experiences like an interactive exploration of Florida's aquifer and learn news of current research with multimedia displays, interpretive graphics and museum specimens.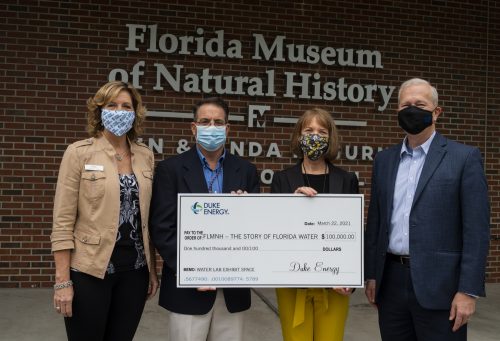 Duke Energy Foundation is continuing their generous support of the Florida Museum's exhibits through a grant that supports environmental education. In honor of World Water Day on March 22, they presented their donation of $100,000 to the museum.
"Duke Energy is proud to support the Florida Museum of Natural History and its future 'Water Lab' as part of the new 'Story of Florida Water' exhibit," said Melissa Seixas, president of Duke Energy Florida. "Water is essential to the life and economy of Florida. And at Duke Energy, we continuously look for sustainable ways to more effectively use this important natural resource that makes Florida a special place to live and work."
Further funding is being provided by gracious gifts from corporations, family foundations and museum supporters.
To increase community involvement as part of the exhibit's development, the Florida Museum conducted a visitor survey, the results of which will inform the design process moving forward.
"'The Story of Florida Water' exhibit will raise awareness about Florida's most important resource and inspire behaviors that will preserve this asset for future generations," said Julie Waters, Florida Museum exhibit coordinator.
To donate to this exciting new endeavor, visit www.uff.ufl.edu/giving-opportunities/024027-florida-water-exhibit.
-30-
---
View more renderings for what the exhibit will look like, plans are subject to change:
---
Writer: Nikhil Srinivasan, 352-273-2034, nsrinivasan@floridamuseum.ufl.edu
Sources: Darcie MacMahon, dmacmahon@floridamuseum.ufl.edu
Museum Media Contact: Kaitlin Gardiner, kgardiner@floridamuseum.ufl.edu
Duke Energy Media Contact: Allison Barker, allison.barker@duke-energy.com