GAINESVILLE, Fla. — The Florida Museum of Natural History is celebrating Earth Day throughout the month of April with an online plant sale, a presentation by award-winning author Audrey Peterman, a panel discussion about Florida's water and more.
The events include: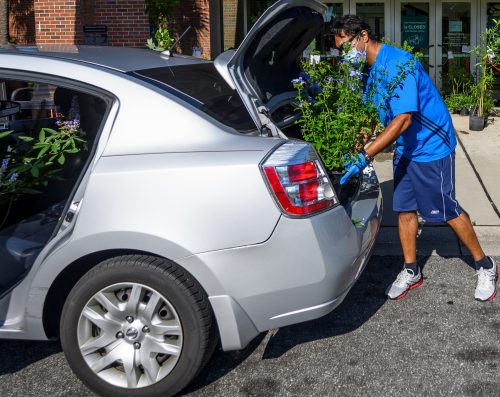 The Spring Plant Sale will allow customers to select from more than 100 species of difficult-to-find and pollinator-friendly plants online and have them safely loaded into their car via curbside pickup. From pollinator enthusiasts to weekend gardeners, there are plants for people of all experience levels and interest. Online ordering is April 2-5 and pickup is April 9 and 10.
A focal point of the month is Audrey Peterman's free virtual keynote, "Exposure to Love to Action: Mobilizing Advocates for our Earth," on April 22 from 7 to 8:30 p.m. Her address will cover the history of preserving outdoor spaces in the U.S., how physical distancing has brought us closer to our Earth and what that means for the future of our planet.
"We're beyond excited that Audrey Peterman is able to join us on Earth Day and speak about the wonder, history and value of our outdoor spaces," said Sadie Mills, educator and coordinator at the University of Florida's Thompson Earth Systems Institute.
In partnership with Conservation Florida, UF's Office of Sustainability and the UF Thompson Earth Systems Institute, the keynote will be livestreamed on Facebook and Zoom platforms and will feature an audience Q&A at the end of the presentation moderated by Lillian Dinkins from Conservation Florida.
From April 30 to May 3, the Florida Museum and UF IFAS Extension are teaming up to participate in the City Nature Challenge 2021, which encourages people to get outside and explore the natural world. Along with more than 250 other municipalities, the project invites all ages to take photos of plants and animals right in their backyard and upload them to the iNaturalist app. The Florida Museum's public programs coordinator, Catherine Carey, is excited to see people become part of the citizen science community.
"Alachua County is joining with cities and counties around the world in documenting nature in and around urban areas," Carey said. "Just download the free iNaturalist app to see who can make the most observations of plants and animals, all while creating data for scientists all over the world to use."
Additional events include "Museum in the Parks: Plants at San Felasco" on April 19 from 9:30 to 11 a.m., where participants can learn about museum collections as well as local plants from a museum scientist. Ideal for children in grades K-6, the event is $12 per adult and child pair. Then, the "Florida Springs Film Series: Biodiversity" on April 27 from 7 to 8:30 p.m. will feature a free panel discussion with experts on the importance, health and conservation of our state's water. Pre-registration is required for both.
Daily themed challenges will be available throughout the month on the museum's website for participants to perform Earth-conscious actions on their own.
For more information, visit www.floridamuseum.ufl.edu/events/blog/earth-day-2021.
-30-
Writer: Ryan Helterhoff, 352-273-2032, printern@floridamuseum.ufl.edu
Sources: Catherine Carey, ccarey@floridamuseum.ufl.edu; Sadie Mills, smills@floridamuseum.ufl.edu
Media Contact: Kaitlin Gardiner, kgardiner@floridamuseum.ufl.edu