Florida Butterfly Monitoring Network researchers and citizen scientists document the presence of local butterfly species and their numbers so that scientists and conservationists have reliable, long-term population data from which to strategize for future environmental care.
The long-handled net hovers over bushes plush with purple and yellow blooms. "Keep your eyes peeled for sudden movement," says Akers Pence, a lepidopterist with the Florida Museum of Natural History, to a group of seven citizen scientists trailing closely behind. "Butterflies don't like quick movement over them, so if they're here, they'll fly right out."
Suddenly, a tiny flash of gray shoots upward from the greenery surrounding the Jacksonville Zoo and Gardens Education Center. The group works quickly to net the butterfly and capture it in a clear plastic container for closer inspection. After examining the brilliant blue spots on its lower wings and consulting a butterfly guidebook, they decide it's a Cassius blue. They make a hash mark on their census sheet and release the butterfly, which zips up into the sunlight and out of sight.
The volunteers are citizen scientists on an official census route for the Florida Butterfly Monitoring Network. The network is a field- and web-based citizen science initiative dedicated to promoting biodiversity by surveying the health of butterfly populations throughout Florida. The Florida Museum of Natural History's McGuire Center for Lepidoptera and Biodiversity, the University of Florida's Institute of Food and Agricultural Sciences and Disney's Animal Programs created the network in 2003 because there was no baseline data to assess the health of Florida's butterfly populations.
More than 725 butterfly species live in North America and scientists estimate up to187 species can be found in Florida. The state's 1,350 miles of coastline temper the seasons and encourage abundant plant and wildlife.
However, Florida's warm climate also encouraged a human population of 18 million and an ever-growing demand for development of natural habitats. Impact from land use practices such as agriculture, logging and urban sprawl continue to degrade and fragment suitable natural habitat, as well as disrupt access to critical food resources for butterflies.
As a result, Florida's butterfly populations are dwindling from habitat loss, pollution and introduction of exotic invasive plants that crowd out their natural host plants. Species like the St. Augustine hairstreak, Schaus' swallowtail and the Miami blue edged close to extinction before conservation efforts focused more prominently on Florida's often overlooked insect inhabitants.
Since its inception, the network has grown to include partnerships or cooperation between the Miami MetroZoo, Brevard Zoo, Lowry Park Zoo, Central Florida Zoological Park, the Illinois Butterfly Monitoring Network, the Florida Fish and Wildlife Conservation Commission's Office of Recreational Services, the Florida Natural Areas Inventory, University of Florida's Department of Entomology and Nematology and various conservation land areas. Total participation in training and field monitoring from 2004 to 2007 numbered more than 442 participants at 26 sites.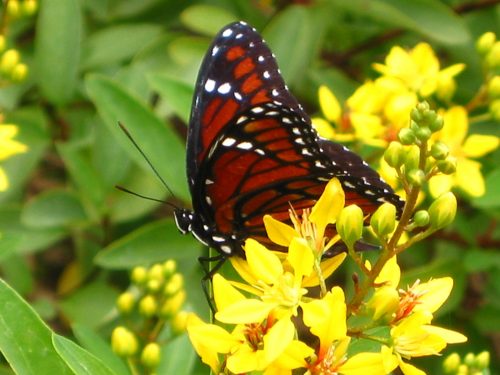 Florida Butterfly Monitoring Network researchers and citizen scientists document the presence of local butterfly species and their numbers so that scientists and conservationists have reliable, long-term population data from which to strategize for future environmental care.
The group at the Jacksonville Zoo and Gardens walks carefully along four routes, or transects, in and around the site. For their data to qualify as scientifically valid, the group follows several strict protocols. All census routes are pre-designated so that future volunteers can easily repeat data collection. Before beginning a transect, the date, time of day, cloud cover, wind and temperature are recorded. Volunteers conduct transects between 10 a.m. and 4 p.m. and only on days with light or no wind and less than 50 percent cloud cover, the most desirable conditions for viewing butterflies.
Once the walk officially begins, the citizen scientists walk slowly along the route keeping a lookout for flashes of wings in the air and bright spots lightly resting on bushes. One volunteer acts as the official observer while another is the official record keeper. The others help capture smaller butterflies for closer inspection and identification while enjoying a beautiful day outdoors.
Andy Price, Jacksonville Zoo herpetologist and the zoo's coordinator for the network, says the response to solicitations for citizen scientists has been enthusiastic.
"We've had 25 volunteers for some walks," Price said. "Butterfly monitoring is an easy activity for anyone to pick up because butterflies are everywhere. They're fascinating to watch and we've had some volunteers become very good at identifying different Florida butterflies."
Price said public involvement is the cornerstone of the network.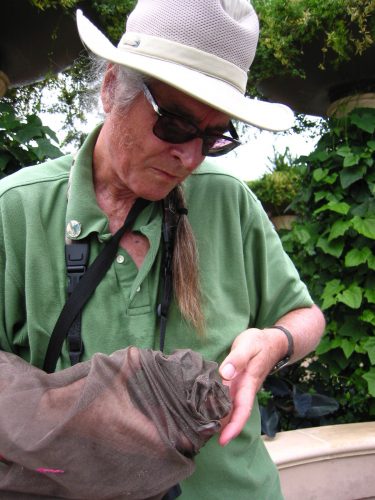 "We want to involve the general public in the network not just to have a hand in data collection but to increase awareness about butterflies and their importance to our environment," Price said. "Butterflies are the tip of the iceberg. Information about butterfly populations and how they change in response to environmental changes will lead to information on how other animals and plants are affected by those same changes."
Jacksonville Zoo volunteer Martha Fethe is a member of the Audubon Society and said she's always had an interest in animals and nature.
"When the zoo told me about the Florida Butterfly Monitoring Network, I signed up because I thought it would be a fun opportunity to learn something new," Fethe said.
Joe Vaughn, a conservationist from the White Oak Conservation Center in north Florida, volunteers to walk transects in north Florida to learn what the original Florida environment looked like.
"At White Oak, we have 7,400 acres that we're restoring to the pre-European settler state detailed in the historical accounts of botanists and mammalogists like William Bartram," he explained. "Surveying many aspects of the ecosystem, including butterfly activity, allows us to gather supporting information that will tell us if we're stewarding our environment properly."
At the Jacksonville Zoo, the group walks around the live oaks and plumbago bushes surrounding the parking lots, down paths lined with golden thyallis and sweet almond verbena bushes inside the park, and past mimosa trees buzzing with feeding butterflies behind the zoo. They identify more than 40 butterflies from 15 different species before a blackening sky to the east threatens to pour rain and ends the walk.
"Our army of citizen scientists can collect large amounts of data from many sites during a short period of time, something that small groups of researchers could not easily otherwise accomplish," said Jaret Daniels, McGuire Center assistant director for research and Florida Butterfly Monitoring Network program director.
At the same time, volunteers learn how butterflies contribute to the Florida ecosystem. As Jacksonville Zoo volunteer Jim Longanbach said, "My wife Mary and I enjoy gardening, and our home garden hosts many butterflies. Working with the Florida Butterfly Monitoring Network gives us the chance to learn about the different types of butterflies in our backyard and how we can be better hosts for them."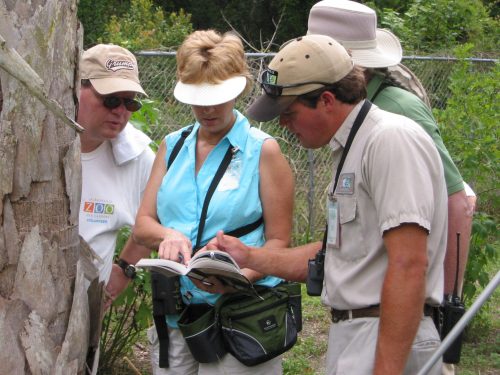 Citizen scientists like the group at the Jacksonville Zoo work with researchers to compare their data with records on burn cycles, exotic plant invasions, land development and natural disasters. The data overlay reveals changes in abundance or distribution of species, potential candidate species for listing as threatened or endangered, environmental threats and the impact of catastrophic weather events on butterfly populations and habitats. This information helps scientists anticipate conservation needs before they become crucial to dwindling species' survival.
"People usually react only when species are in critical need," Pence said. "If we can spread awareness of the need for conservation of butterflies and their habitat early on, we can ensure our children will be able to enjoy them before they're gone for good."
The project is making great strides in the protection of Florida's butterflies. The butterfly counts and local environment information citizen scientists collect help researchers better understand the impact of new development and work with land owners to minimize its effect on butterfly populations.
With the help of the Florida Fish and Wildlife Conservation Commission, the Florida Butterfly Monitoring Network also promotes butterfly viewing along Florida's Great Florida Birding Trail in hopes of encouraging more people to venture outdoors to explore the many natural wonders the state has to offer. These efforts are funded in part by the Elizabeth Ordway Dunn Foundation, the Association of Zoos and Aquariums and the Disney Wildlife Conservation Fund.
The Association of Zoos and Aquariums recently praised the effort by naming the network one of its top 10 wildlife conservation success stories of 2007.
"It will take time," Daniels acknowledges, "but maybe someday soon the same butterflies that have been so often overlooked will inspire a new sense of appreciation and environmental stewardship by visitors and residents alike."