Learn about Florida wildlife by exploring museum collections, observing live organisms as we hike along trails and participate in socially distanced activities about the plants and animals found in our parks!
These unique events give participants:
An up-close look at Museum specimens to learn about the collections and their importance
The chance to take part in activities relating to pollinators
A special hike and personalized tour of the creatures that live in local parks
Access to an iNaturalist group to help identify specimens seen during the program
Masks are required and social distancing guidelines will be implemented for the program.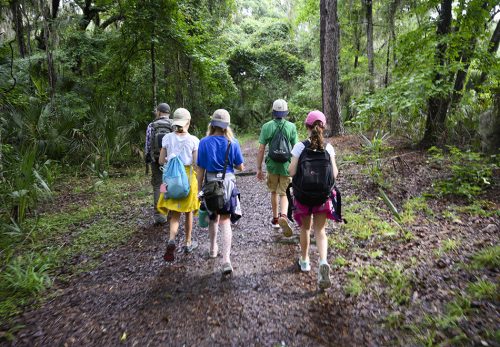 Price: $12 per adult/child pair, includes park entrance fee. $6 per additional person. Best suited for children in grades 1-6.
Time: 9 to 9:50 a.m.
Theme: Pollinators
Location: Paynes Prairie Preserve State Park, meet at the information kiosk in the parking lot
Instructors:  Kristin Rossetti, Conservation Coordinator with the Daniels Lab, and Matt Standridge, Research Technician with the Daniels Lab.
Sign up now! Save the Date on Facebook
Make sure to sign up soon as there are limited spots for each session!
Arrive – 8:55 a.m.
Check in with Museum staff at the information kiosk in the parking lot at Paynes Prairie Preserve State Park.
Learn about Museum collections with a hands-on activity – 9 a.m.
Get excited about science and nature as Museum educators and scientists tell you about cool specimens and fun facts about the park. Put all your knowledge to work with a hands-on activity you can take home!
Nature Hike – 9:25 a.m.
Take a guided hike of the park and learn about local plants, animals and ecosystems.
Wrap-up – 9:50 a.m.
Ask our experts any remaining questions you may have.
Up to 1 mile of hiking (strollers not recommended).
We could potentially get up to 30 minutes away from restrooms during the hike.
Bring a reusable water bottle.
Wear appropriate footwear and clothes that can get dirty.
You might want some bug spray!
This program is rain-or-shine, weather permitting.
Want to take part on your own instead?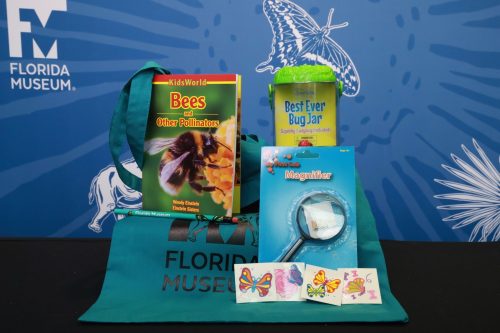 Purchase a Self-Exploration Kit from the Museum Gift Shop for $19.95 and take part in self-guided activities at your own pace! These kits will be available starting Oct. 19 and have personalized videos, field guides, hands-on activities and special equipment for each topic to maximize learning and fun!
They also include a vehicle park pass so you can go out to Paynes Prairie Preserve State Park and put it all into practice on your own!
---
The Florida Museum may photograph or video visitors for educational and promotional purposes. Attendance to a Florida Museum event constitutes the attendee's consent regarding the possibility of appearing in Museum marketing materials.