Join First Magnitude Brewing Co. for the first MAGnify Science *VIRTUAL* presentation featuring Florida Museum researcher Jaret Daniels!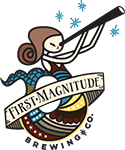 Tune in LIVE on Facebook where Daniels' talk will be streamed starting at 6:30 p.m. Learn about the amazing work being done for imperiled butterfly species right here in your community!
The presentation will be followed by a live Q&A.
Watch live starting at 6:30 p.m. Save the date on Facebook
Speaker: Jaret Daniels, Director of the Florida Museum's McGuire Center for Lepidoptera and Biodiversity
Topic: "Combating the insect apocalypse one butterfly at a time"
---
The Florida Museum may photograph or video visitors for educational and promotional purposes. Attendance to a Florida Museum event constitutes the attendee's consent regarding the possibility of appearing in Museum marketing materials.