The Florida Museum actively researches endangered species and their habitats, as well as invasive species. We work with other institutions and organizations to understand how to strengthen and restore fragile ecosystems, support species on the brink, and offset the human impact on our environment.
Research Highlights
Miami Blue Butterfly
Thought to be extinct, a remnant population of less than 100 Miami Blue butterflies was discovered in 1999 at Bahia Honda State Park in the Florida Keys. Once prolific in South Florida, the Miami Blue's population began to decline in the 1980s from a number of factors including development and heavy pesticide spraying.
After considerable research and evaluation, McGuire Center Assistant Director Jaret Daniels and his research team designed a plan to breed the rare Miami Blue butterfly in captivity and then reintroduce them to portions of their native range. In 2004, they released about 7,500 Miami Blue caterpillars in Everglades and Biscayne Bay national parks. The project is one of the largest captive breeding programs in the country, with 30,000 individuals released during the past four years to attempt to restore this native butterfly to part of its historic range.
Florida Program for Shark Research
The Florida Program for Shark Research is a leader in both domestic and international research and conservation of sharks, skates and rays, known as elasmobranchs. The program focuses on obtaining critical biological information needed to enhance international fishery management and conservation of elasmobranchs. Systematic studies of shark biology — including life history, ecology and behavior — document biodiversity and are crucial in determining the conservation status of individual species, many of which are in rapid decline.
The program actively promotes shark conservation through educational outreach programs such as Project Shark Awareness and Sawfish In Peril, as well as through the Museum's Ichthyology web site. The program's web site serves as the host site for the International Shark Attack File, and International Sawfish Encounter Database.
Florida Panther
Museum specimens provide a valuable opportunity to learn about the biology of animals long after their deaths. The Florida Museum is home to a large collection of preserved Florida panther skins and skeletons acquired through a cooperative salvage program with the Florida Fish and Wildlife Conservation Commission; most of these animals were killed on Florida highways. These specimens provide a permanent record of physical, genetic and demographic changes in the Florida panther population over the past 50 years.
This unique collection is available to researchers throughout the U.S. and has been the subject of many studies by Assistant Curator of Mammology David Reed and his colleagues involving genetics, osteopathology (bone abnormalities, breakage, or pathogens), and environmental toxins. Small bone samples reveal dietary preferences through stable isotope analysis.
Revealing the Rare:
A Virtual Collection of Florida's Endangered Plant Species
High resolution, zoomable images of endangered, threatened and commercially exploitable Florida plants.
Invasive Species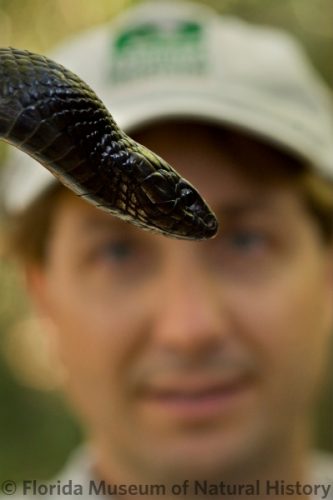 Collections Manager of Herpetology Kenneth Krysko is working in South Florida to document invasive and exotic amphibians and reptiles. His findings are critical to state and federal wildlife managers as well as private land owners who are seeking to curb the environmental impact of non-native species. Krysko worked with state agency biologists to produce the first detailed natural history account of invasive green and spiny-tailed iguanas in South Florida.
Krysko and his research team also study patterns and occurrences of invasive boa constrictors and pythons as well as the potential pollination effects of non-native Madagascar giant day geckos on non-native coconut palms. As more exotic species invade Florida and threaten the state's indigenous inhabitants, research and documentation by Krysko and his colleagues will help to manage invasive exotics and enhance the future of Florida's native flora and fauna.