Southeastern peoples have made baskets for thousands of years. Utilitarian baskets made of split cane or saw palmetto stems were common in the 19th and early 20th centuries. Coiled sweetgrass baskets became common in the 20th century and are the dominant form today.
Summary
Sweetgrass Basket with Doll Lid
Made by a Seminole artist, South Florida
Dates to ~20th century
Collection
Story
Sweetgrass baskets became a popular tourist item in the 1930s, but they were being made before this time. These baskets are made by first stitching the coils of grass together. Then a circular piece of cardboard is covered with palmetto fiber and this serves as the base from which to build up the coiled basket. Colorful embroidery thread stitches the coils together and adds a distinctive decoration. Sometimes sweetgrass is used to make a handle or a lid, but in this case, a doll's head made of palmetto fiber, cloth and glass beads adorns the lid.
Bill Marquardt
Curator, South Florida Archaeology & Ethnography*
Director, Randell Research Center*
Florida Museum of Natural History
---
Exhibit
On display Sept. 23, 2017-Jan. 7, 2018, Rare, Beautiful & Fascinating: 100 Years @FloridaMuseum celebrated the Museum's rich history. Each Museum collection was asked to contribute its most interesting items and share the stories that make them special. Though the physical exhibit is closed, this companion website remains online, providing an opportunity to experience the Florida Museum's most treasured specimens.
Exhibit Area: Objects Tell Stories

Theme: Seminoles in Florida
---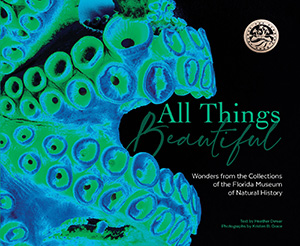 Want to see more? Explore more than 300 breathtaking color photos of plants, animals, fossils and cultural heritage materials from the Florida Museum of Natural History's collections in the award-winning book All Things Beautiful available from the University Press of Florida.
---
*This title was accurate at the time the exhibit was on display in 2017. Please visit the collection website to verify current staff and student information.