The Dusky Salamander was once common in the southeastern United States. In recent years, UF researchers have documented population drops and even disappearances within its range, such as in Devil's Millhopper sinkhole in Gainesville where they were once abundant.
Summary
Southern Dusky Salamander (Desmognathus auriculatus)
From Alachua Co., Florida, mid-1900s
Collection
Story
I've been monitoring the status of amphibians in the southeastern United States for about 35-40 years. We started getting reports about disappearances of certain salamander species, especially the Southern Dusky Salamander, and I was concerned about that and I started looking at museum records and I found out that in the Florida Museum of Natural History there was an extensive collection of Southern Duskys from the 1950s to the 1970s. Now I live just next to the Devil's Millhopper and one of the collection sites was the Devil's Millhopper. So I started a 12-month survey of salamanders in the Devil's Millhopper to see what the status of this particular species was.
Now unfortunately we did not find this animal at all and we now think it's extinct from the Devil's Millhopper. But specimens in the Florida Museum of Natural History allowed us to go back and determine that yes, the species was abundant there at one time, that all size classes were represented so we knew we had a very healthy population and we were able to pinpoint the time of disappearance as about the mid-1970s. We don't know what caused the disappearance of this species, but we can confirm now that it is not there and indeed throughout much of the southeastern United States the Southern Dusky has disappeared for some unknown reason.
Kenneth Dodd
Courtesy Associate Professor, Department of Wildlife Ecology and Conservation*
University of Florida
---
Exhibit
On display Sept. 23, 2017-Jan. 7, 2018, Rare, Beautiful & Fascinating: 100 Years @FloridaMuseum celebrated the Museum's rich history. Each Museum collection was asked to contribute its most interesting items and share the stories that make them special. Though the physical exhibit is closed, this companion website remains online, providing an opportunity to experience the Florida Museum's most treasured specimens.
Exhibit Area: On The Brink
Theme: Warning Stories

---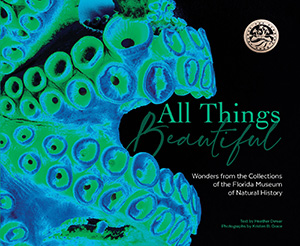 Want to see more? Explore more than 300 breathtaking color photos of plants, animals, fossils and cultural heritage materials from the Florida Museum of Natural History's collections in the award-winning book All Things Beautiful available from the University Press of Florida.
---
*This title was accurate at the time the exhibit was on display in 2017. Please visit the department website to verify current staff and student information.