These salamanders were found in a stream on UF's campus, and used to describe a new subspecies of Mud Salamander. While this species appears tolerant of habitat loss in many places, it is locally extinct on campus.
Summary
Rusty Mud Salamander (Pseudotriton montanus floridanus)
From Alachua Co., Florida, mid-1900s
Collection
Story
Mud Salamanders are typically found along streams, springs and seeps at low elevations in the eastern U.S. These salamanders are large and robust, typically reddish-brown, reach up to 8 inches in total length and lay their eggs under rocks in streams.
This particular Mud Salamander has a special connection to Florida. In 1942, this specimen was described as a new subspecies of Mud Salamander found in northern Florida. This and several other specimens were collected in 1936 on the University of Florida campus by Archie Carr. Dr. Carr was the first Ph.D. in biology at the University of Florida and is among the state's most well-known naturalists. Like elsewhere across the native range of Mud Salamanders, Carr found this specimen along a creek on campus. However, the authors that described this new subspecies noted the creek only as "C" Creek because calling it by its real name, Crapper Creek, would have been uncouth in the scientific publication of the time.
While this species appears tolerant of habitat loss in many places, it is locally extinct on the campus of the University of Florida.
Dave Blackburn
Associate Curator, Herpetology
Florida Museum of Natural History
---
Exhibit
On display Sept. 23, 2017-Jan. 7, 2018, Rare, Beautiful & Fascinating: 100 Years @FloridaMuseum celebrated the Museum's rich history. Each Museum collection was asked to contribute its most interesting items and share the stories that make them special. Though the physical exhibit is closed, this companion website remains online, providing an opportunity to experience the Florida Museum's most treasured specimens.
Exhibit Area: On The Brink

Theme: Warning Stories

---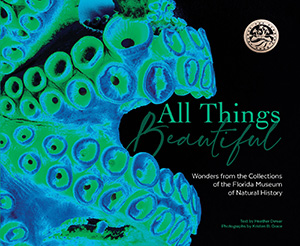 Want to see more? Explore more than 300 breathtaking color photos of plants, animals, fossils and cultural heritage materials from the Florida Museum of Natural History's collections in the award-winning book All Things Beautiful available from the University Press of Florida.
---
*This title was accurate at the time the exhibit was on display in 2017. Please visit the collection website to verify current staff and student information.