Florida Museum of Natural History doctoral student Rachel Narducci was recently awarded a National Science Foundation Graduate Research Fellowship.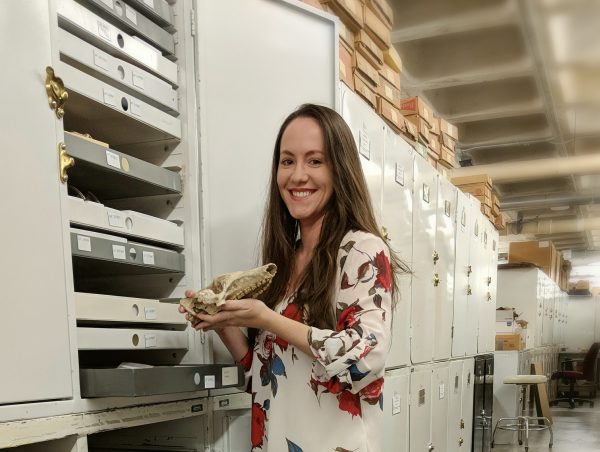 Narducci, a Montbrook fossil dig coordinator for the museum, received the NSF GRF to help her continue her work with fossils. The program recognizes graduate students pursuing research-based master's and doctoral degrees in NSF-supported disciplines. Fellows receive a three-year annual stipend and money for their education, along with international research opportunities and the ability to conduct their own research on a graduate level at any accredited U.S. institution.
Narducci said her research will focus on reconstructing the brain and biology of extinct armadillo relatives by nano-CT scanning fossil skills and utilizing software to digitally extract the cranial endocast, or negative space inside the skull.
"This research allows me to become experienced in CT scanning fossils and modern specimens and digitally reconstructing CT data to understand morphology, evolution and paleobiology of extinct creatures," she said.
Narducci said she is focusing on armadillos because they are one of the earliest diverging groups of placental mammals and have been poorly studied.
"I have been fascinated by prehistoric life ever since preschool," she said. "Now, my childhood dreams have come true, and I am able to pursue a Ph.D. in paleontology. It's real. I've made it. I am actually going to be a paleontologist!"
Jon Bloch, associate chair and curator of vertebrate paleontology at the museum and Narducci's adviser, said Narducci has been working with the paleontology collections and labs, as well as participating in exhibits and public programs, since 2012.
He said her experience in fieldwork, lab work and collections management is extensive for her career stage, and her proposed research is creative and fascinating.
"Not only is Rachel's approach to research exactly what we want to support in the sciences, but she has already participated in substantial ways in our outreach and field programs at the Florida Museum of Natural History," Bloch said. "Rachel is off to a great start as a graduate student at UF, and I am confident that she will go on to be an important scientist and educator."
---
Learn more about the NSF Graduate Research Fellowship Program.