GAINESVILLE, Fla. — Dig deep and discover the world that lies beneath your feet at the Florida Museum of Natural History's annual "Can You Dig It?" event April 1 from 10 a.m. to 3 p.m.
In collaboration with the University of Florida department of geological sciences, the Florida Museum will be hosting a free, family-friendly festival that celebrates all things geology, and features hands-on activities and scientists whose research ranges from climate change to volcanism to marine science.
"We have been doing the festival since 2007, and it is hugely popular," said Florida Museum education programs coordinator Catherine Carey. "As I always say, it is the only time tidal waves and volcanoes are a good thing to have at the museum!"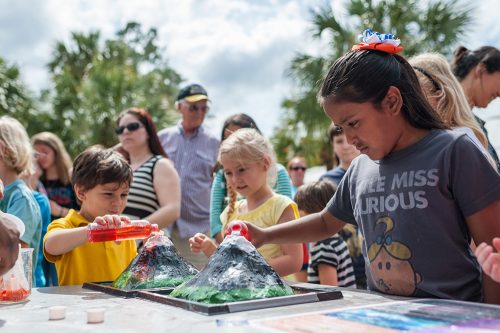 Celebrating its 15th edition, faculty members and students are excited to bring new activities to the event, such as an investigation of water's many colors and their significance, as well as upgrades and new twists on old favorites like the volcano demonstrations. Other returning activities include deep sea drilling in which participants can sample their own "drill core"; an augmented reality sandbox; and one exploring paleomagnetism, in which scientists will reconstruct how continents have moved.
"One of the things that most excites me is getting a chance to watch our outstanding faculty and students engage with guests about the many subjects that we are fascinated by and passionate about," said Matthew Smith, a master lecturer and undergraduate adviser in UF's department of geological sciences. "Although this is our 15th "Can You Dig It?", it's always fun to see how this event evolves as our department grows and changes over the years."
Visitors are encouraged to grab a "passport" and collect stamps as they explore the groundbreaking work of geologists worldwide. Completed passports can be redeemed for a prize.
"Can You Dig It?" is presented by the UF department of geological sciences and the Florida Museum with additional financial support provided by The Chemours Co. and Marvin and Cynthia Ivey.
For more information or to see a full list of activities, visit www.floridamuseum.ufl.edu/event/can-you-dig-it.
-30-
Writer: Aleidys Lopez Romero, PRintern@flmnh.ufl.edu
Source: Catherine Carey, ccarey@flmnh.ufl.edu; Matthew Smith, mcsmith@ufl.edu
Media Contact: Kaitlin Gardiner, kgardiner@floridamuseum.ufl.edu