GAINESVILLE, Fla. — Go on an arachnid adventure at the Florida Museum of Natural History's new "Spiders Alive!" exhibit, opening Jan. 28.
With more than a dozen live species from around the world, this exciting exhibition dives into the world of spiders, scorpions and their relatives and informs visitors about the unique traits and characteristics of this diverse group of animals known as arachnids.
"When visitors have a chance to view living animals, they get a different perspective of them than they would through a picture or even by watching a video," said Julie Waters, the Florida Museum's exhibit coordinator. "The exhibit gives visitors a chance to observe spiders and other arachnids that they wouldn't see otherwise and may change the perceptions they have of them."
Featured animals are as follows:
Mexican Red Knee
Jumping Spider
Asian Forest Scorpion
Brazilian Red and White Tarantula
Huntsman Spider
Desert Hairy Scorpion
Indian Ornamental Tarantula
Tailless Whip Scorpion
Gooty Safire Metallica Tarantula
Wolf Spider
Giant Vinegaroon
Goliath Bird Eater
Orb Weaver
Southern House Spider
Fishing Spider
Southern Black Widow
A massive replica of a golden orb-web spider and web overlooks the exhibit while large touchable models reveal a closer look at spider anatomy and their differences from insects. Rare fossils display species from the past, including one in limestone that's 100 million years old and a spider in tree resin that's 20 million years old.
Videos in the exhibit's theater showcase a variety of unique arachnid behaviors, such as a diving bell spider living under water and a southern black widow spinning silk. Panels in the exhibit reveal details about ancient spiders, conservation, venom and more.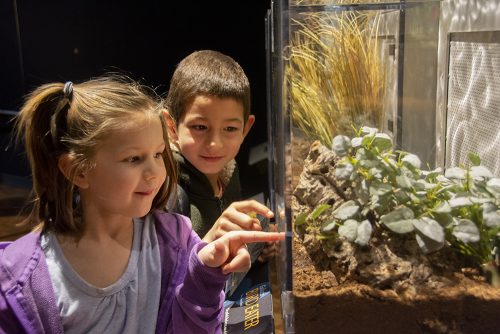 "While the fear of spiders is fairly common, I hope the exhibit helps those visitors realize that most spiders are small, shy and harmless, living hidden from view," Waters said.
Admission to "Spiders Alive!" is $8 for adults; $7.50 for Florida residents, seniors and non-University of Florida college students; $5.50 for ages 3 to 17; and free to museum members and UF students with a valid Gator 1 Card. Complete admission pricing is available online at www.floridamuseum.ufl.edu/visit/plan. The Florida Museum will display the exhibit through Sept. 4.
"Spiders Alive!" is owned and operated by Peeling Productions, and produced by the American Museum of Natural History and sponsored in part by Visit Gainesville/Alachua County, University of Florida Student Government and the Florida Division of Arts and Culture.
For more information, visit www.floridamuseum.ufl.edu/exhibits/spiders-alive or call 352-846-2000.
-30-
Writer: Nikhil Srinivasan, nsrinivasan@floridamuseum.ufl.edu
Source: Julie Waters, jmwaters@floridamuseum.ufl.edu
Media contact: Kaitlin Gardiner, kgardiner@floridamuseum.ufl.edu