GAINESVILLE, Fla. — Find out what lies beneath the Earth and about the groundbreaking field of geology during the Florida Museum of Natural History's annual "Can You Dig It?" event Saturday from 10 a.m. to 3 p.m.
The Florida Museum and the University of Florida department of geological sciences have once again partnered to host this free, family-friendly festival after more than two years. People of all ages are invited to come experience hands-on activities and learn about the many facets of geology, such as the science behind volcanic eruptions and seismic activity.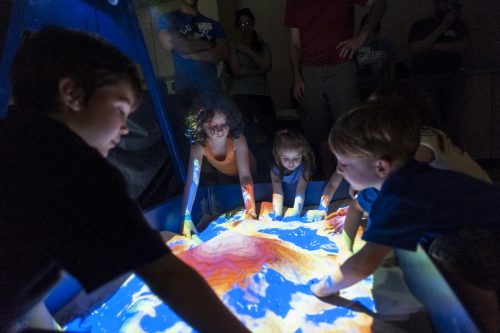 "As with all our programming, it is all about science," said Florida Museum education programs coordinator Catherine Carey. "This is a chance to meet the scientists in person and find out about what they study firsthand. And geology is so exciting! Here is an event that has earthquakes, volcanoes, fossils and exploring groundwater all in one place."
As the museum's first in-person festival since the COVID-19 pandemic began, staff and volunteers are thrilled to put together this educational program for the community.
"We did this event annually for 13 years in a row prior to the pandemic. So, after a two-year hiatus, our faculty and students are excited about having the opportunity to once again share our enthusiasm about the Earth," said Matthew Smith, a master lecturer and undergraduate adviser in the UF department of geological sciences. "Participants will get to directly interact with our students and faculty at nearly 15 different activity stations, and each will get to leave with a mineral or fossil goodie of some kind."
A new activity making its debut this year is "Arctic/Antarctic Adventures." Designed by UF faculty members conducting research in Greenland and Antarctica, guests can see and touch an ice core from Antarctica while learning about the relationship between sea levels and melting ice sheets.
"Our polar researchers have designed a new interactive activity around the subject of ice-sheet melting, so I'm excited to see what they have in store for our visitors," Smith said. "We'll be bringing back many of the fan-favorite activities from years past like the augmented reality sandbox, volcanic eruptions, oil spill cleanup and ocean drilling, but we also have had many new faculty join our department in the past several years, so there will be new twists to the classic stations."
"Can You Dig It?" is presented by the UF department of geological sciences and the Florida Museum with additional financial support provided by The Chemours Co. and Marvin and Cynthia Ivey.
For more information or to see a full list of activities, visit www.floridamuseum.ufl.edu/event/can-you-dig-it.
-30-
Writer: Juliana Ortiz, PRIntern@flmnh.ufl.edu
Sources: Catherine Carey, ccarey@flmnh.ufl.edu; Matthew Smith, mcsmith@ufl.edu
Media contact: Kaitlin Gardiner, kgardiner@floridamuseum.ufl.edu