GAINESVILLE, Fla. — The Florida Museum of Natural History's new "Room to Grow" gallery exhibit digs up the dirt on gardening.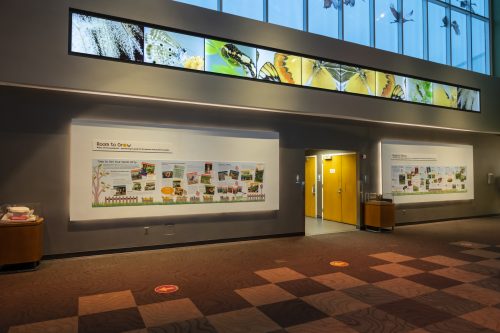 This content-rich exhibition educates guests on the diverse benefits of gardening and also offers Florida-specific tips and suggestions for locals interested in developing their green thumb.
In addition to addressing food insecurity, the exhibit illustrates how gardening can improve the mental and physical wellbeing of gardeners of all ages and outlines how to create pollinator hotspots and establish more resilient food systems. Images depict how to garden in small spaces by using vertical space, windowsills or balconies.
Exhibit developer Jonnie Dietz said COVID-19 sparked an interest in home gardening worldwide.
"Stay-at-home orders coincided with the onset of spring, and people were looking for a safe and therapeutic activity," Dietz said. "The positive effects that being outside in nature and gardening can have on one's wellbeing are significant. Even a simple container garden on a balcony can yield rewards. Start small and see where it takes you."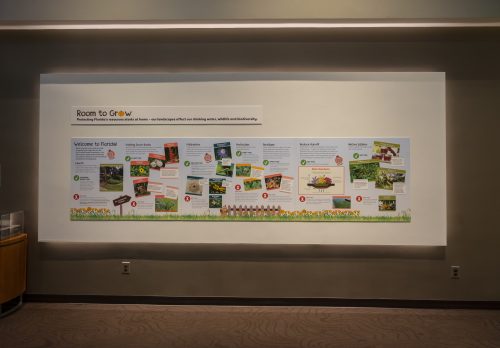 Guests can use their phones to scan QR codes for other local resources, such as Working Food's Seed Collective Program and UF/IFAS' Florida-Friendly Landscaping programs. Useful graphics and illustrations show the best practices and potential risks for Florida landscaping. Lessons include how to attract pollinators, which native plant species are low maintenance, how lawns impact the environment and the hazards of using too much fertilizer or water.
"A shocking statistic I learned is that Floridians with in-ground irrigation systems dump an average of 50% of their clean drinking water on their lawn," Dietz said, "In addition, chemicals used on grass can contaminate groundwater, and lawns offer no resources for pollinators. These are big issues that can be addressed by simply reducing the size of your lawn and replacing it with Florida-friendly alternatives."
For more information, visit www.floridamuseum.ufl.edu/exhibits/room-to-grow.
-30-
Writer: Nikhil Srinivasan, 352-273-2034, nsrinivasan@flmnh.ufl.edu
Source: Jonnie Dietz, jdietz@flmnh.ufl.edu 
Media contact: Kaitlin Gardiner, kgardiner@flmnh.ufl.edu