GAINESVILLE, Fla. — Mothers visiting the Florida Museum of Natural History can now nurse their children in a new lactation room located in the "Beverly and Jon Thompson Discovery Zone" exhibit.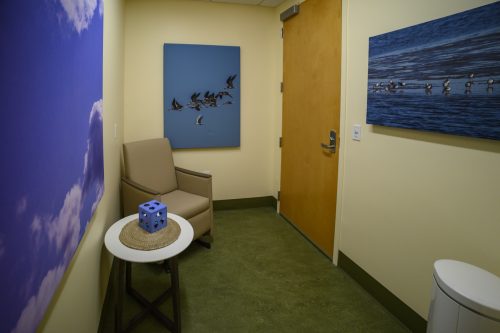 The room has a comfortable chair, sink and baby changing station and is located at the back of the "Discovery Zone" exhibit near the family restroom.
"As a mother who has gone through some of the challenges of nursing in public, I am excited for moms visiting or working at the Florida Museum to have a dedicated space," said Elizabeth Buckhalter, Florida Museum information technology specialist. "I know several moms with young children who are pregnant, and will let them know. I can't imagine a better place for them to bring their families."
Darcie MacMahon, Florida Museum director of exhibits and public programs, says the decision to build the lactation room came from the museum's desire to fulfill this need for nursing mothers. The University of Florida designed and funded the project as part of a strategic initiative to provide lactation room access across campus.
"We're fortunate to have many family visitors at the museum and are so pleased that this new facility will make their visit more comfortable, functional and accessible," MacMahon said.
The free "Discovery Zone" exhibit opened in July 2017, showcasing a diverse range of educational science-based activities for children and their caregivers.
For more information, visit www.floridamuseum.ufl.edu/exhibits/discovery-zone.
-30-
Writer: Nikhil Srinivasan, 352-273-2034, nsrinivasan@flmnh.ufl.edu
Source: Darcie MacMahon, 352-273-2053, dmacmahon@flmnh.ufl.edu
Media contact: Paul Ramey, 352-273-2054, pramey@flmnh.ufl.edu