GAINESVILLE, Fla. — Florida Museum of Natural History moth expert Akito Kawahara will be featured in the Public Broadcasting Service's "Nature: American Spring LIVE" program May 1.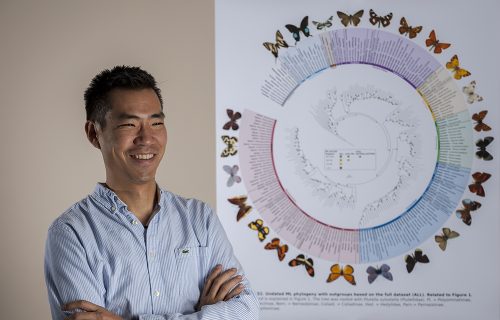 "Nature: American Spring LIVE" is a three-episode series that will air on PBS and the PBS Nature Facebook page on April 29, 30 and May 1 from 8 to 9 p.m. EST. The series will show the change from winter to spring in real time from iconic locations across the U.S., including the Rockies and the Everglades.
Kawahara will appear in the final episode of the series, titled "Connections," which will highlight how partnerships between plants and animals have evolved over thousands of years. His demonstration of local moth diversity will be filmed live from the University of Florida's Ordway-Swisher Biological Station in Melrose, Florida.
"As night falls, the sky comes alive with a whole host of moths of all shapes and sizes," said Kawahara, associate professor and curator at the McGuire Center for Lepidoptera and Biodiversity. "Much of this diversity remains invisible and unknown to us. Tuning in to this program will give viewers a glimpse of the vibrant nightlife that often goes unseen in our backyards and gardens."
Kawahara's research program focuses on the evolution, diversity and conservation of moths and butterflies. His collaborations have produced the most complete evolutionary tree of butterflies to date, and he works with researcher Jesse Barber's lab at Boise State University to track the escalating arms race between moths and bats and highlight how human-driven changes to the environment are impacting insects.
As a curator at the McGuire Center for Lepidoptera and Biodiversity, he is in charge of maintaining one of the largest collections of butterflies and moths in the world. He is also an advocate for public understanding and appreciation of insects and was a 2019 TEDxUF speaker.
During the program, Kawahara plans to showcase the variety of moths at the Ordway-Swisher Biological Station, a 9,500-acre wilderness area managed by the UF Institute of Food and Agricultural Sciences. The grounds encompass a variety of ecosystems, including forests and wetlands, and are used for research and environmental education.
"Ordway-Swisher is a great place to film 'American Spring LIVE' because the site plays an important role in climate change research and informs our understanding of how a changing climate affects plants and animals in our region," said Robert Gilbert, UF/IFAS dean for research. "We have about 70 experiments going on right now where scientists are studying everything from insect abundance to plant growth to fire science to water dynamics, all through the lens of a changing environment."
"Nature: American Spring LIVE" is the finale of "Nature's" 37th season on PBS. The series has won more than 700 honors, including 18 Emmy and three Peabody awards.
The series will air on WUFT in North Central Florida.
-30-
Writer: Nikhil Srinivasan, nsrinivasan@flmnh.ufl.edu, 352-273-2034
Sources: Akito Kawahara, kawahara@flmnh.ufl.edu, 352-273-2018; Robert Gilbert, ragilber@ufl.edu, 352-392-1784
Florida Museum media contact: Kaitlin Gardiner, kgardiner@flmnh.ufl.edu, 352-273-2028
UF/IFAS media contact: Samantha Grenrock, grenrosa@ufl.edu, 352-294-3307 (office), 949-735-1076 (cell)