GAINESVILLE, Fla. — The Florida Museum of Natural History and University of Florida Marston Science Library recognized the winners of the 2018 Elegance of Science art competition this week during a reception at the museum.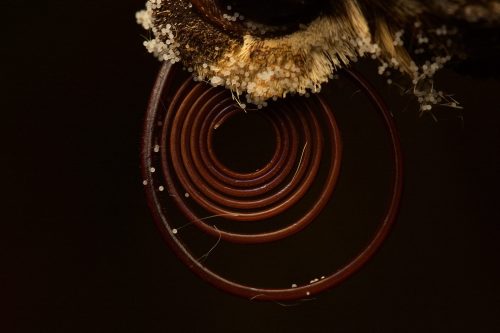 The annual competition open to UF students and employees showcases art inspired by research, scientific tools or concepts and emphasizes the connection between artistic and scientific perceptions of reality.
"Not only do art and science complement each other, they can enhance understanding of the other's principles by making science more approachable to creative thinkers and art more approachable to analytical thinkers," said Kristen Grace, Florida Museum photographer and one of the contest judges. "The variety of submissions is a fun reminder that we are surrounded by beauty in the most unexpected ways."
Lawrence Reeves, an entomologist at the Florida Medical Entomology Laboratory which is part of UF's Institute of Food and Agricultural Sciences, and Annika Smith, a biology doctoral student, submitted this year's winning entries.
Reeves won first place and $150 for his picture of the proboscis, or tongue, of a sphinx moth covered in pollen. The moths are important pollinators that are active at night when other pollinators, like bees and butterflies, are asleep.
"I photograph the things that I love and have gravitated toward things like snakes and insects that are popularly thought of as being unfavorable," Reeves said. "I try to show the beauty of these things and hopefully change people's perspectives."
Smith won second place and $100 with a watercolor illustration of tulip tree leaves. The leaves of this tree grow hidden within pairs of small leaf-like organs called stipules. These leaves can contain stipules which in turn can hold more leaves. Smith's painting depicts five sets of leaves and stipules hidden inside each other, which resembles Russian nesting dolls.
Smith and Reeves also tied for third place with close-up images and split the prize money of $50. Reeve photographed a brown anole and Culex pilosus, a type of mosquito that feeds on reptilian and amphibian hosts, while Smith captured a picture of the hairs of the salvinia plant, a common water fern. The leaves of the fern are coated with dense hairs shaped like egg beaters that help water run off before reaching the leaf surface.
Honorable mentions were awarded to three images, two submitted by Reeves and Florida Museum research technician Jonathan Bremer, and one by undergraduate astrophysics student Alma Spahic. The Florida Museum will display the winning entries for six months. All entries may be viewed at www.floridamuseum.ufl.edu/elegance-science/art/2018-entries.
-30-
Writer: Nikhil Srinivasan, 352-272-2034, nsrinivasan@flmnh.ufl.edu
Sources: Andrei Sourakov, 352-273-2013, asourakov@flmnh.ufl.edu; Kristen Grace, 352-273-2038, kgrace@flmnh.ufl.edu
Media contact: Paul Ramey, 352-273-2054, pramey@flmnh.ufl.edu