GAINESVILLE, Fla. — Children will have a chance to unearth fossils, learn about different cultures and meet members of the animal world while attending the Florida Museum of Natural History's summer camp programs.
Regular camps are designed for students enrolled in grades 1-4 for the 2019-2020 school year. There is also a Nature Photography Camp for children in grades 5-6 and Lep Camp for those in grades 5-8.
The Florida Museum offers more than 15 week-long camps between June 10 and Aug. 2, including morning, afternoon and full-day sessions.
"Everyone loves coming to the museum for an hour or two," said Catherine Carey, public programs coordinator. "Now think about having a whole week! It's really your museum then."
Pre-registration is required. General registration begins March 15 and museum members may sign up starting March 1.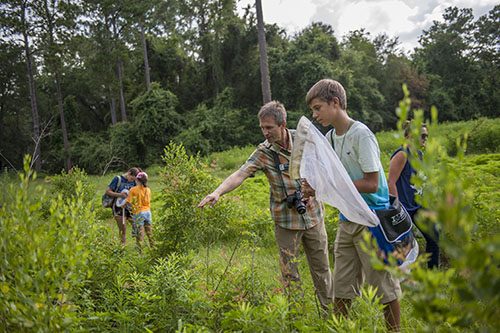 Half-day sessions are $135 or $120 for museum members, and Lep Camp is $150 or $135 for museum members. Full-day summer camp sessions are $255 or $225 for museum members, and photography camp is $310 or $275 for museum members. Member pricing is available for museum supporters at the household level or above.
To sponsor camp attendance for a deserving child in the community, contact Kara Schwartz, kschwartz@flmnh.ufl.edu or 352-273-2047.
The museum is also partnering with Holbrook Travel to offer a Costa Rica Family Rainforest Camp for families with children ages 5-17. More information is available online at floridamuseum.ufl.edu/event/costa-rica-camp.
For more information or to register for museum summer camps, visit floridamuseum.ufl.edu/kids/summer-camps or call 352-273-2061.
-30-
Writer: Gillian Sweeney, 352-273-2032, PRintern@flmnh.ufl.edu
Source: Catherine Carey, 352-273-2064, ccarey@flmnh.ufl.edu
Media contact: Paul Ramey, 352-273-2054, pramey@flmnh.ufl.edu