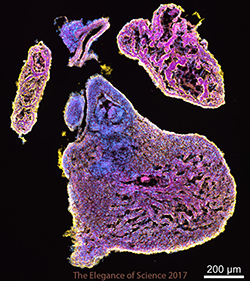 GAINESVILLE, Fla. — The winners of the Elegance of Science art contest will present their works at the University of Florida Marston Science Library from 4 to 5:30 p.m. Tuesday, April 3. This free event with refreshments is open to the public.
The Florida Museum of Natural History and Marston Science Library organize this annual competition to showcase art inspired by the research, scientific tools or concepts of UF students, faculty and staff. The contest emphasizes the connection between artistic and scientific perceptions of reality.
"It never surprises me when scientists are able to express themselves well artistically," said Jim Harrison, creative director of The Agency at the UF College of Journalism and Communications, who was one of the contest judges. "The skills and qualities that make good scientists, like being curious about the world and seeking to understand things in new ways, also makes for good artists."
Five entries received the same score from the judges and the artists will share the prize money of $300. The winning entries are from Jonathan Bremer, Oliver Keller, Scott Cinel and two submissions from Deanna Bousalis. The winning entries range from a moth laying eggs in Ecuador to a microscopic image of embryonic mouse heart tissue.
Bremer is a field technician at the Florida Museum. His entry was a picture of two wasps breeding, highlighting their sexual dimorphism. The males possess long antennae, large eyes and wings while the females are blind, wingless and spend their entire lives underground.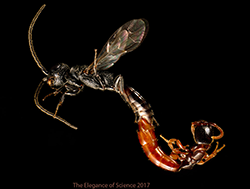 Keller and Cinel's entries were similar in their six-legged familial theme. Keller's image depicts a mother beetle with her larval young, while Cinel's shows an Ecuadorian moth laying eggs. Keller is a doctoral student at the department of entomology and nematology and Cinel is a biology doctoral student.
Bousalis is a biomedical engineering doctoral student at the Schmidt Lab, and both of her winning images are of a mouse heart. One of her submissions was a section of tissue that had been stained with fluorescent antibodies to measure the abundance and patterns of certain proteins. The resulting image is a colorful mess of pink and purple, almost resembling cotton candy or bubble gum. Her other entry is a black-and-white image of tissue obtained using electron microscopy and highlights the startling contrast between the shape of different cells in the sample.
"I've always been a little artsy even though I'm in the sciences, so I appreciate pictures that look nice," Bousalis said.
Honorable mentions were awarded to Leah Palmer, Allan Gonzalez, Derya Tansel, Geena M. Hill, Jonathan Bremer and Christina A. Pacak. The Florida Museum will display the winning entries as well as the honorable mentions for six months. All entries may be viewed at www.floridamuseum.ufl.edu/elegance-science/art/2017-entries.
-30-
Writer: Nikhil Srinivasan, 352-272-2034, nsrinivasan@flmnh.ufl.edu
Sources: Andrei Sourakov, asourakov@flmnh.ufl.edu, 352-273-2013, Jim Harrison, jim.harrison@ufl.edu, Deanna Bousalis, dbousalis@ufl.edu
Media contact: Paul Ramey, 352-273-2054, pramey@flmnh.ufl.edu