Early sign-up for museum members opens March 1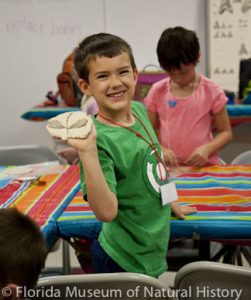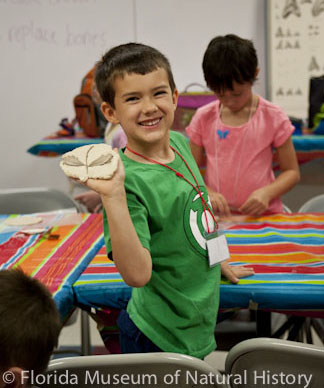 GAINESVILLE, Fla. — Register your child beginning March 15 for discovery and exploration at the Florida Museum of Natural History summer and field camps.
Students in grades 1-6 for the 2014-2015 school year can investigate natural history, examine fossils, discover ancient cultures and meet some of the most interesting members of the animal kingdom during the weeklong camps that run June 9 through Aug. 1.
"Museum camps are always educational and fun," said Florida Museum of Natural History public programs coordinator Catherine Carey. "This summer, campers will learn about everything from great inventions and archaeology to wolves and dogs in our new temporary exhibit, 'Wolf to Woof: The Story of Dogs.'"
Morning, afternoon and full-day sessions are available for summer camps. Students in grades 5-6 may register for field camps focusing on Florida archaeology and nature photography the weeks of June 23 and July 21. All field camps include field trips and are full-day sessions.
Pre-registration is required for all camps and is available on the Florida Museum website at http://www.floridamuseum.ufl.edu/events/camps/summer/. While non-member registration opens March 15, museum members may register early beginning March 1.
Half-day sessions are $115 for museum members and $125 for non-members. Full-day summer camp sessions are $220 for members and $245 for non-members, and field camps are $265 for members and $295 for non-members.
For full-day camps, drop-off is 8-8:30 a.m. and pickup is 4:30-5 p.m. The half-day camps can either be for the morning, with pickup from noon to 12:30 p.m. or for the afternoon, with drop-off from 12:30 to 1 p.m.
There is still time to secure your child's spot through early registration by becoming a museum member at http://www.floridamuseum.ufl.edu/getinvolved/membership/join-the-museum/. Member benefits include free admission to the Butterfly Rainforest and all fee-based temporary exhibits, invitations to exclusive events, museum gift shop discounts and free or reduced admission to more than 300 museums worldwide.
For questions or more information, call 352-273-2061.
-30-
Writer: Katina Prokos, kprokos@flmnh.ufl.edu
Source: Catherine Carey, ccarey@flmnh.ufl.edu
Media contact: Paul Ramey, 352-273-2054, pramey@flmnh.ufl.edu