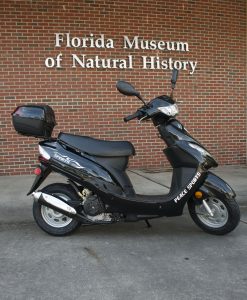 GAINESVILLE, Fla. — University of Florida students visiting the Florida Museum of Natural History can now save money with free admission and a scooter giveaway.
Sponsored by UF Student Government, students with a valid Gator 1 card receive free admission to the Butterfly Rainforest and other fee-based exhibits year-round.
"Granting students free access to paid exhibits supports the fact that we're an educational facility," said Jeff Hansen, Florida Museum coordinator of operations and visitor services "It is our hope that more UF students will learn of our facility and utilize it."
Additionally, Party 99.5 FM and the Florida Museum are hosting a drawing for a new, fully equipped scooter between Nov. 15 and Dec. 5 courtesy of Southern Scooters and ATV. Entrants must be a UF student with a valid Gator 1 card who is 18 years and older. Enter to win through 4:30 p.m. Dec. 5 at the museum or listen to Party 99.5 to register on-air.
Party 99.5 will broadcast live at the Florida Museum from 2:30 to 4:30 p.m. Friday, Nov. 22 and from 3 to 5 p.m. on Dec. 5, to announce the winner. The winner must be present to claim the scooter.
The free admission and scooter giveaway are part of an effort to expose more UF students to the Florida Museum, Hansen said.
"During 2012, the museum offered UF students free admission for six weeks and attendance increased 10 to 20 percent," Hansen said.
For more information, visit http://www.floridamuseum.ufl.edu/calendar/grid/scooter-giveaway/.
-30-
Writer: Francis Diaz, fdiaz@flmnh.ufl.edu
Source: Jeff Hansen, jhansen@flmnh.ufl.edu, 352-273-1898
Media contact: Paul Ramey, pramey@flmnh.ufl.edu, 352-273-2054