Opening day features film screening, members of discovery team, family fun
Editors: A complete list of opening day activities follows this release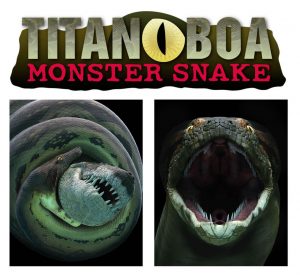 GAINESVILLE, Fla. — See the largest snake that ever roamed the Earth at the Florida Museum of Natural History during the opening of "Titanoboa: Monster Snake" from 10 a.m. to 3 p.m. Jan. 26.
Activities range from screenings of the Smithsonian Channel documentary to a panel discussion and individual presentations by scientists who discovered fossils of the 2,500-pound reptile in a Colombian coal mine in 2004."It is a rare opportunity for museum visitors to interact with part of the team who discovered 'Titanoboa,' " said Florida Museum education assistant
Amanda Harvey. "The new exhibit also features a working paleontology lab similar to the one in the 'Cruisin' the Fossil Freeway' exhibit last year, which was extremely popular with our visitors. Museum scientists and volunteers will be working on fossils from the same location, including a recently discovered Titanoboa skeleton that is the most complete specimen recovered and includes parts of the skull."
Other opening day activities include a life-size puzzle of the 48-foot-long Titanoboa, the Alachua County Library bookmobile featuring books about reptiles, and paleontology, botany and other displays from museum scientists and community organizations.
Florida Museum of Natural History assistant director for exhibits Darcie MacMahon will moderate the 10:30 a.m. panel discussion with scientists who will answer questions and talk about the discovery, excavation and implications of the massive reptile.
"We're thrilled to showcase the amazing story of Titanoboa," MacMahon said. "Along with its companions — a host of turtles and crocodiles new to science and the planet's first rain forest, Titanoboa is guaranteed to inspire people about life in the Paleocene and the nature of scientific discovery."
The researchers include Jonathan Bloch, Florida Museum associate curator of vertebrate paleontology; Jason Head of the University of Nebraska-Lincoln; former University of Florida department of geological sciences and Florida Museum graduate student Alex Hastings, who now teaches at Georgia Southern University, and Florida Museum graduate assistant Fabiany Herrera. Each scientist also will give brief individual presentations and answer questions from visitors.
"Truly enormous snakes really spark people's imagination, but reality has exceeded the fantasies of Hollywood," said Bloch, who led the international discovery team with Carlos Jaramillo, a paleobotanist from the Smithsonian Tropical Research Institute in Panama. "The snake that tried to eat Jennifer Lopez in the movie 'Anaconda' is not as big as the one we found."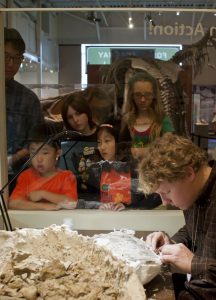 The exhibit tells the story of Titanoboa cerrejonensis, which ruled the jungles of South America 60 million years ago as the top predator, able to crush and devour giant crocodiles and other animals.
Featuring real fossils and a full-scale model of the snake, as well as plant and other animal fossils from the same site, the Florida Museum is the only venue to display actual Titanoboa fossils.
The exhibit features a re-created scene of the discovery site, clips from the Smithsonian Channel documentary on Titanoboa and comparative, but much smaller, specimens from modern snakes. Along with Titanoboa, the other prehistoric plant and animal fossils from the site reveal information on the earliest-known rain forest teeming with life and dating to the Paleocene Epoch, the lost world that followed the demise of the dinosaurs.
Through interpretive graphics and computer-generated imagery videos, visitors may examine what Titanoboa ate, where it lived and why it grew to its enormous size.
While opening day activities are free, admission to "Titanoboa: Monster Snake" is $6 for adults, $5 for Florida residents, seniors and college students and $4.50 for ages 3-17. Museum members receive free admission.
The exhibition is a collaboration between the Florida Museum, the University of Nebraska-Lincoln and the Smithsonian Tropical Research Institute. It is circulated by the Smithsonian Institution Traveling Exhibition Service.
– 30 –
The Florida Museum of Natural History inspires people to value the biological richness and cultural heritage of our diverse world and make a positive difference in its future. The museum is located at 3215 Hull Road just east of Southwest 34th Street in the University of Florida Cultural Plaza in Gainesville. Hours are from 10 a.m. to 5 p.m. Monday-Saturday and from 1 to 5 p.m. Sunday. Butterfly Rainforest admission is $10.50 for adults ($9 Fla. residents) and $6 for ages 3-17. Prices subject to change. For more information, including directions and parking, visit www.floridamuseum.ufl.edu or call 352-846-2000.
Writer: Kate Schofield, kschofield
Sources: Jon Bloch, jbloch@flmnh.ufl.edu, 352-273-1938; Darcie MacMahon, dmacmahon, 352-273-2053
Media contact: Paul Ramey, 352-273-2054, pramey@flmnh.ufl.edu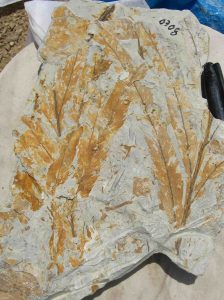 "Titanoboa: Monster Snake" Opening Day Activities
Florida Museum of Natural History • Jan. 26, 10 a.m.-4 p.m.
10 a.m.-1 p.m.
• Alachua County Library Bookmobile featuring reptile books
10 a.m.-3 p.m.
• Titanoboa: Monster Puzzle
• Meet representatives from Florida Museum and UF departments and other area non-profit groups including the Florida Paleontological Society, Florida Fossil Hunters, UF Natural Area Teaching Lab and the Turtle Survival Alliance.
• Family-friendly activities
• Food vendor available
10:30 a.m.-12:30 p.m.
• Screening of "Titanoboa: Monster Snake" with panel discussion by the team behind the discovery
12:30-1 p.m.
• "Discovering the Lost World of Titanoboa," with Jonathan Bloch, Florida Museum associate curator of vertebrate paleontology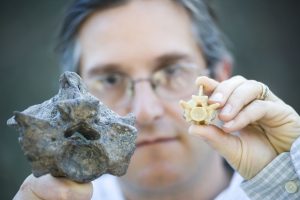 1-1:30 p.m.
• "How big was Titanoboa, and why did it get so big?" with Jason Head,
University of Nebraska-Lincoln
1:30-2 p.m.
• "Dyrosaurid Crocodiles: The Other Giants of Cerrejon," with Alex Hastings,
Georgia Southern University
2-2:30 p.m.
• "Cerrejon Plant Fossils and the Origin of Rainforests," with Fabiany Herrera, Florida Museum of Natural History graduate assistant
3-4 p.m.
• Showing of Titanoboa: Monster Snake
-###-