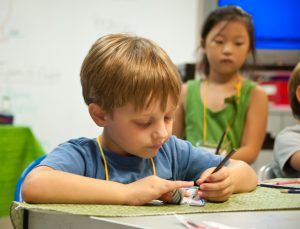 GAINESVILLE, Fla. — Just because school is out doesn't mean students can't dive into science and investigate natural history at one of two school holiday camps at the Florida Museum of Natural History.
The camps Dec. 20-21 allow students enrolled in grades K-5 for the 2012-2013 school year to explore natural science with interactive activities and museum exhibits.
"Learning is fun," said Catherine Carey, Florida Museum public programs coordinator. "Learning about natural history is more fun and learning at the museum is the most fun."
A "Science in Comics" camp Dec. 20 teaches students about various aspects of the natural world through comics like "Peanuts." Students will visit the "Peanuts…Naturally: Charlie Brown and Friends Explore Nature" temporary exhibit and explore questions like "How do scientists test ideas?"
"Alien Invaders" Dec. 21 will teach students about invasive plants and animals found in their backyards. Students attending this camp will have the opportunity to explore the "Water: Discovering and Sharing Solutions" temporary exhibit. Both exhibits are on display through Jan. 2, 2013.
The camps are offered as full- or half-day programs. The full-day program is $50 per student and the half-day cost is $30 for non-members. A special rate for museum members also is available.
Preregistration is available on the Florida Museum's website at http://www.floridamuseum.ufl.edu/events/camps/school-holiday/. Students should wear clothes appropriate for outdoor activities, and full-day participants should bring a sack lunch.
For the full day, drop-off is between 8 to 8:30 a.m. and pickup is 4:30 to 5 p.m. The half-day camps can either be for the morning, with pickup from noon to 12:30 p.m. or for the afternoon, with drop-off from 12:30 to 1 p.m.
For questions or more information call 352-273-2061.
-30-
Writer: Kate Schofield, kschofield@flmnh.ufl.edu
Media contact:  Paul Ramey, APR, 352-273-2054, pramey@flmnh.ufl.edu