Like so many millions of people around the world, a good number of our Museum staff, scientists and student researchers are working from home now to slow the spread of COVID-19.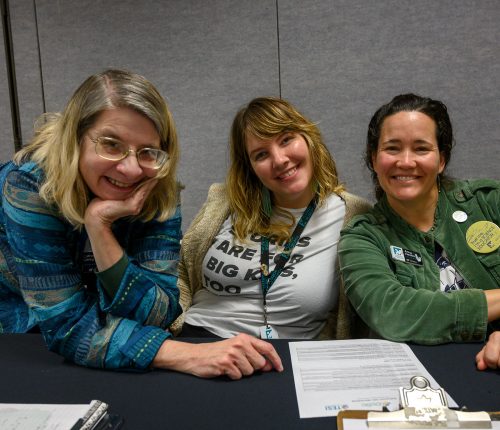 What started as a casual conversation about silence at home quickly became a great list of science-y and museum-themed podcasts some of our team members love dearly and want to recommend.
In no particular order, and what I really mean by that is 'based on who was talking the loudest about their favorites,' here's the beginning of our list of podcasts to try out if you love museums, natural history or a little bit about how the natural world works.
We'll make an effort to point these to the website of the podcast so you can find out more, but feel free to look them up on whatever website or service you normally use to listen to podcasts.
This awesome archaeology podcast is hosted by our very own Florida Public Archaeologists Network Central Region Coordinators Becky O'Sullivan and Nigel Rudolph!
A crowd favorite! Suggested topics or episodes to start with: Bisonology, Lupinology, Chiropterology (bats), Paleontology, Saurology, Cnidariology (coral), Disease Ecology, Island Ecology, Mycology, Bufology (toads!), and Lepidopterology. Just a few of the many!
Sidedoor: A Podcast from the Smithsonian
More than 154 million treasures fill the Smithsonian's vaults, but where public view ends, Sidedoor begins. With the help of biologists, artists, historians, archaeologists, zookeepers and astrophysicists, host Lizzie Peabody sneaks listeners through the Smithsonian's side door to search for stories that can't be found anywhere else.
A History of the World in 100 Objects
Director of the British Museum, Neil MacGregor, narrates 100 programs that retell humanity's history through the objects we have made. This podcast aged well!
With The Field Museum's Emily Graslie. They're no longer producing new episodes, but these are still really great.
Join former Irish President Mary Robinson and comedian Maeve Higgins in this uplifting new podcast, celebrating amazing women doing remarkable things in pursuit of climate justice.
Superheroes and science fiction meet the cutting edge of biological sciences in this podcast. Where does the science meet the fiction?
The Anthropocene Epoch is the current geological age, in which human activity has profoundly shaped the planet and its biodiversity. On "The Anthropocene Reviewed," author John Green reviews different facets of the human-centered planet on a five-star scale.
Each week this podcast dives into one of the curiously delightful conversations overheard around National Geographic's headquarters. Sounds like fun!
Biologists share their most amazing stories from working with wildlife around the world, focusing on specific individual animals they have met and followed through their research.
Matt explores the cool, the weird and the (not really) mundane of plants near and far, with experts and researchers you'll want to know about.
Science Vs takes on fads, trends and the opinionated mob to find out what's fact, what's not and what's somewhere in between.
Two grad students studying disease ecology, Erin and Erin, explore the world of epidemics and weird medical mysteries.
Rose Eveleth takes on a possible, or not so possible, future scenario — everything from the existence of artificial wombs to what would happen if space pirates dragged a second moon to Earth.
True, personal stories about science.
Have something to add to our list? Tweet at us @FloridaMuseum with your favorite museum or natural history podcasts!