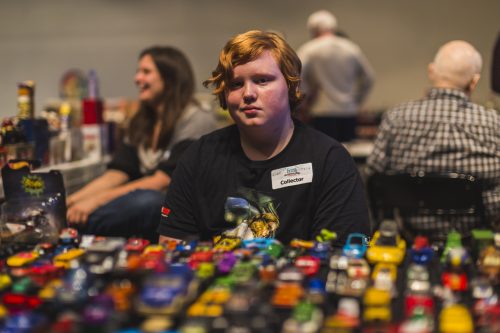 GAINESVILLE, Fla. — Collectors from across the region will share their personal treasures with Florida Museum of Natural History visitors during the 39th Collectors Day Jan. 20, 2018, from 10 a.m. to 3 p.m.
This free event is the museum's longest running and one of its most popular public program, allowing guests to interact with more than 100 collectors and learn the history and significance of their collections.
"Collections are important because they are a window into the changes our culture has made in the past century," said museum educator Tiffany Ireland. "Some of the participants have items in their collections that are over 100 years old."
Attendees will have the opportunity to view Beatles memorabilia, trains, Legos, dolls, classic cars and more.
The Florida Museum of Natural History created Collectors Day to recognize the importance of collections in research. The Florida Museum is the fastest-growing university-based museum in the nation, and it holds one of the country's largest collections with more than 40 million specimens.
For those interested in displaying collections, the registration deadline is Jan. 13, 2018. Collectors of all ages are welcome and there is no charge for participating.
For more information on registration, visit www.flmnh.ufl.edu/events/collectors-day-registration.
About 1,800 visitors attended the 2017 event, many of whom return each year to see the expansion of previous collections and newer items on display.
For more information, visit www.floridamuseum.ufl.edu/event/collectors-day or call 352-273-2061.
-30-
Writer: Catalina Ruiz, 352-273-2032, PRintern@flmnh.ufl.edu
Source: Tiffany Ireland, 352-273-2061, tireland@flmnh.ufl.edu
Media contact: Paul Ramey, 352-273-2054, pramey@flmnh.ufl.edu