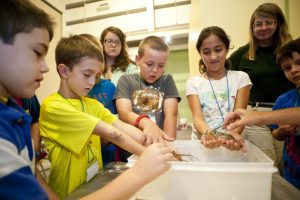 GAINESVILLE, Fla. — Registration for Florida Museum of Natural History summer and field camps opens March 15, and includes a new "Lep Camp" this year for students in grades 5-8 to experience field collection, specimen preparation and the conservation of butterfly and moth specimens with museum scientists Aug. 1-5.
Pre-registration is required for all camps and is available online at www.floridamuseum.ufl.edu/summer-camps. Florida Museum members may register early beginning March 1.
With "Wicked Plants: The Exhibit" opening this summer, students enrolled in grades 1-4 for the 2016-2017 school year will have the opportunity to learn about some of Mother Nature's most appalling creations during a "Botany Gone Bad" camp. Participants also can examine fossils, discover ancient cultures, learn about past and present ecosystems and meet some of the most interesting members of the animal kingdom during the weeklong camps that run June 13-July 1 and July 11-Aug. 12.
"Museum summer camp is where fun and discovery occur at the same time," said Florida Museum educator Tiffany Ireland.
Morning, afternoon and full-day sessions are available. The nature photography field camp is a full-day session Aug. 8-12 that takes students in grades 5-6 on outdoor field trips to apply what they learn at the museum.
Half-day sessions are $115 for museum members and $125 for non-members, and "Lep Camp" is $130 for members and $140 for non-members. Full-day summer camp sessions are $220 for members and $245 for non-members, and field camp is $265 for members and $295 for non-members.
For full-day camps, drop-off is 8-8:30 a.m. and pickup is 4:30-5 p.m. The half-day camps can either be for the morning, with pickup from noon to 12:30 p.m. or for the afternoon, with drop-off from 12:30 to 1 p.m.
For more information, visit www.floridamuseum.ufl.edu/summer-camps or call 352-273-2061.
-30-
Writer: Maria Espinoza, PRintern@flmnh.ufl.edu
Source: Tiffany Ireland, tireland@flmnh.ufl.edu
Media contact: Paul Ramey, 352-273-2054, pramey@flmnh.ufl.edu