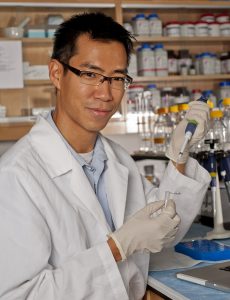 Media contact: Paul Ramey, 352-273-2054, pramey@flmnh.ufl.edu
Source: Betty Dunckel, bdunckel@flmnh.ufl.edu, 352-273-2088
GAINESVILLE, Fla. — The Florida Museum of Natural History begins its fall "Science Café" series Sept. 15 with lepidopterist Akito Kawahara discussing "Discovering How Insects Jam Bat Sonar: A Story About Nocturnal Fieldwork in the Depths of the Amazon, Borneo and Central Africa."
The program at Saboré, 13005 SW First Road, Suite 129 in Town of Tioga begins at 6:30 and reservations are required. For more information or to RSVP, email aerickson@flmnh.ufl.edu or call Amanda Erickson Harvey, 352-273-2062.
Now in its fourth year, the Science Café program brings guest speakers and community members together at local establishments to discuss contemporary science over food. Seating and food orders begin at 6 p.m. with the program starting at 6:30 p.m.
"Our fall Science Café series begins with a program that celebrates the 10th anniversary of the museum's McGuire Center for Lepidoptera and Biodiversity," said Betty Dunckel, director of the Florida Museum's Center for Science Learning.
Kawahara, assistant curator of Lepidoptera in the Florida Museum's McGuire Center, will describe his research on how night-flying moths combat bats, one of their primary predators.
"Research in our lab has focused on the question of how moths can jam bat sonar and have evolved to become so successful on Earth," Kawahara said. "During my presentation, I plan to show videos from our fieldwork and clips of moths escaping bats, filmed at night using high-speed infrared cameras."
Other scheduled fall programs include:
– Oct. 13 – "Conservation Ecology of the Swallow-tailed Kite: Lessons for Protecting Migratory Birds in a Changing World," with Avian Research and Conservation Institute Executive Director Ken Meyer at Blue Gill Quality Foods, 1310 SW 13th St. in Gainesville.
– Nov. 17 – "Unlocking the Cabinets of Our Nation's Natural History Museums" with Florida Museum Curator of Molecular Systematics and Evolutionary Genetics Pam Soltis at Saboré.
Participants purchase their own food and beverage for each program from a special menu, with seating and ordering beginning at 6 p.m. Please note seating is on a first-come basis (except when wheelchair access is requested in advance) and participation is limited. The presentation starts promptly at 6:30 p.m.
To help plan for these free programs, please RSVP at least one week in advance of the café date with your name and the number attending by emailing aerickson@flmnh.ufl.edu or calling Amanda Erickson Harvey, 352-273-2062. Please note that space is limited and programs fill quickly.
-30-
The Florida Museum of Natural History inspires people to value the biological richness and cultural heritage of our diverse world and make a positive difference in its future. The museum is located at 3215 Hull Road just east of Southwest 34th Street in the University of Florida Cultural Plaza in Gainesville. Hours are from 10 a.m. to 5 p.m. Monday-Saturday and from 1 to 5 p.m. Sunday. The museum's current featured exhibit, "Wolf to Woof: The Story of Dogs," explores the history, biology and evolution of dogs and their special place in human society. For more information, including directions, parking and ticket prices, visit www.floridamuseum.ufl.edu or call 352-846-2000.
-###-
Writer: Katina Prokos, kprokos@flmnh.ufl.edu
Source: Betty Dunckel, bdunckel@flmnh.ufl.edu, 352-273-2088
Media Contact: Paul Ramey, pramey@flmnh.ufl.edu, 352-273-2054