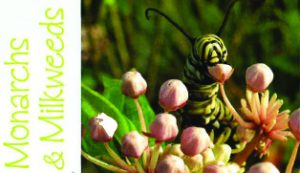 GAINESVILLE, Fla. — A new free brochure published by the Florida Museum of Natural History provides tips for enhancing landscapes with native plants specifically for butterflies.
The brochure, "Monarchs & Milkweeds," features photos of common butterfly larvae and their host plants as well as five species of milkweeds native to the southeast United States.
"Any nature enthusiast can use the brochure to identify caterpillars, which gardeners sometimes kill simply because they munch on leaves," said Jaret Daniels, lepidopterist and assistant professor in the Florida Museum's McGuire Center for Lepidoptera and Biodiversity.
Daniels said the brochure should be useful to a variety of people, from school groups to garden clubs to professional landscapers at zoos and botanical gardens. The brochures are available at the museum, but interested parties may also contact Daniels at jdaniels@flmnh.ufl.edu.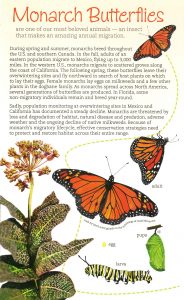 One of the most recognizable butterfly species in North America, the orange-and-black-striped Monarch was chosen for the brochure as a model for the challenges facing many species of wildlife due to homogenous landscaping and the widespread use of non-native plants.
"If the public is going to change their mindset," Daniels said, "they'll change it for the Monarch."
The most widely available type of milkweed today is the non-native tropical or scarlet milkweed, which, unlike native milkweeds, grows year-round. The use of these plants can potentially extend breeding well into the fall and winter, exposing larvae to killing freezes and disrupting the annual fall migration of the butterflies to overwintering sites in central Mexico, Daniels said.
The congregation of hundreds of millions of monarchs attracts tourists to Mexico each winter. Led by McGuire Center Director Thomas Emmel, the Florida Museum offers yearly trips to some of the densest overwintering sites.
In an effort to protect this migration and increase the availability and use of native plants and seeds, readers are encouraged to take the brochure to local nurseries and request milkweeds and other wildlife-attracting native plants, Daniels said.
"The Florida Museum developed the brochure with assistance from the Xerces Society for Invertebrate Conservation and Butterfly Conservation Initiative. The printing was funded by the F.A.O. Schwarz Family Foundation, Florida Biodiversity Foundation, Xerces Society for Invertebrate Conservation and the McGuire Center."
-30-
Source: Jaret Daniels, jdaniels@flmnh.ufl.edu, 352-273-2052
Writer: Katina Prokos, kprokos@flmnh.ufl.edu
Media contact: Paul Ramey, 352-273-2054, pramey@flmnh.ufl.edu